WGN to Celebrate 100th Anniversary of Wrigley Field



by Lou Schwartz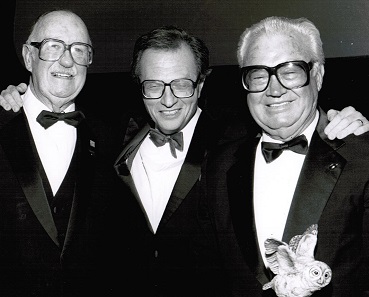 Legendary Chicago Cubs announcers Jack Brickhouse (l), and Harry Caray (r) with Larry King at the ASA's 5th annual Hall of Fame Dinner - December 13, 1989

FOR IMMEDIATE RELEASE
April 22, 2014 - WGN will air live coverage both locally and nationally of Wrigley Field's 100th anniversary celebration on April 23 starting at 12:30pm.

"Wrigley 100," a live pregame show hosted by sports anchor Dan Roan will explore the history of the famed ballpark followed by coverage of the on-field festivities, which includes the honoring of Cubs greats Ernie Banks, Andre Dawson, Lee Smith and Kerry Wood, among others. Chicago Bears legends Dick Butkus and Gale Sayers will also be present, as the Bears called Wrigley home from 1921 to 1970.

Following the pre-game ceremony, the Cubs will take on the Arizona Diamondbacks with the Cubbies donning the uniforms worn by the Chicago Federals for the opening of then-Weeghman Park in 1914. The D'Backs have also agreed to wear the uniforms of Chicago's opponent that day, the Kansas City Packers.

During the seventh inning stretch, Dutchie Caray, the wife of the late Cubs broadcasting legend Harry Caray, will lead the rendition of "Take Me Out to the Ballgame."
*                         *                               *