The ASA's "Vets2Broadcasting"
Job Creation Program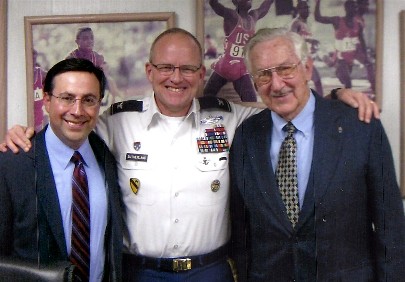 CBS Sportscaster Ian Eagle, ASA President Lou Schwartz and Col. David W. Sutherland, Special Assistant to the Chairman of the Joint Chiefs of Staff and Director of the Pentagon's Warrior & Family Support Program, during a meeting at the ASA offices, New York City, Nov. 6th, 2011
The mission of the American Sportscasters Association, as we work with the Pentagon's "Warrior and Family Support" Program, is to create a program for our returning service members which will serve as a conduit to a job and/or career in the sports broadcasting field.
The following is a brief outline of our program:
1. Through our vast network of sportscasters, sports directors, sports personalities, etc., we will enlist the participation of TV, radio and cable stations to serve as mentors to veterans by offering internships and/or employment opportunities. (There are approximately 4,800 AM Stations, 6,400 FM Stations, and 2,200 TV Stations.)
2. We will seek out military veterans, both wounded and non-wounded, who have an interest in Radio & TV Broadcasting, both sports and general, as a career path and not a short term job.
3. Those selected will be enrolled in a twelve week paid internship at a radio or TV Station where they will become familiar with all the behind-the-scenes activities of an actual broadcast and the various areas of broadcasting, enabling the veteran to decide which position they are well suited for such as:
On-Air Positions: play-by-play, color analyst, talk show host, studio host, reporter, stadium announcer, etc.
Program Production & Other Positions: camera operator, videographer, editing, production assistant, sound & lighting technician, public relations, sales, promotions, etc.
4. The intern will be tutored by the present position holder at the station until they can successfully perform the duties of the position they are seeking.
5. Upon completion, each intern will receive a "Certificate of Merit" to acknowledge the training and skills they have acquired. Interns can now be retained by the station or they can apply for positions through our Nationwide Job Bank.
6. As an added bonus, we will invite veterans into the broadcast booth to observe behind-the-scenes activities of prominent sportscasters calling a game.
7. We will produce PSAs for TV and radio extolling the importance of our program and how it will benefit veterans and their families.
Some of those who have already agreed to participate in our program include:
Todd Ant, Sports Anchor/Reporter, ABC Radio Network
Bob Carpenter, TV Voice of the Washington Nationals
Ian Eagle, CBS NFL announcer & TV Voice of the N.J. Nets
Dick Enberg, Chairman of the ASA and TV Voice of the San Diego Padres
Clark Kellogg, lead college basketball analyst for CBS Sports and Indiana Pacers TV analyst
Al McCoy, longtime Voice of the Phoenix Suns
Bill Walton, NBA Hall of Famer and Sacramento Kings special analyst
Warner Wolf, Sports Anchor, WABC Radio's "Imus in the Morning"
"Warriors & Sportscasters"Advisory Board
(in formation)
John de Q. Piper, Chairman - Financial Advisor, The Cone Group, UBS Financial Services
Ronald Batnick - Vietnam Veteran, 101st Airborne Division, awarded Bronze Star with V Device
Dr. Lorraine Colville - former Regional Director, U.S. Dept. of Education
Don Dunphy, Jr. - former Vice President, ABC News (son of "Voice of Boxing" Don Dunphy)
Mark S. Jaffe - President & CEO, The Greater New York Chamber of Commerce
Dr. Bruce D. Logan - former President, CEO & Chief of Medicine, NY Downtown Hospital
Paul R. Pops, Esq. - Pops & Associates, Attorneys at Law
Joseph A. Reilly, former President & CEO, New York State Broadcasters Association
Paul Skrabut, Esq. - Lt. Col., U.S. Marine Corps.(Ret.), Attorney at Law
Stanley Smith, Vice President, Morales Electrical Contracting Corp.
Ken Sunshine - Public Relations Consultant, Sunshine, Sachs & Associates (clients include Ben Affleck, Leonardo DiCaprio, Barbara Streisand and Justin Timberlake)
Kevin Wensing - Captain, U.S. Navy (Ret.)