A Message from ASA President Lou Schwartz on the Passing of Gen. Westmoreland
General William Westmoreland was not only a good friend, but a great American and a great patriot.
He would also gladly accept my invitation to attend our annual dinners, and, without preparation, would take part in our program and presentations.
He was particularly pleased to present the International Hall of Fame Award to Masao Hazama, one of Japan's greatest sportscasters.
Mr. Hazama, remembering the presentation, called it one of the highlights of his over 50 years in broadcasting.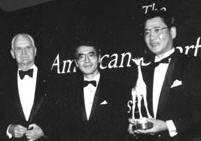 Gen. Westmoreland (l.) makes presentation to the ASA's first International Hall of Fame inductee Masao Hazama (r.) of Japan at the 4th annual Hall of Fame Dinner in 1987