Bill Walton Named Named to the
ASA's Board of Directors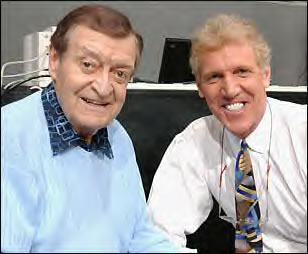 Bill Walton (r.) with the late Chick Hearn

Bill Walton has been named to the ASA Board of Directors, replacing the late Curt Gowdy, it was announced by Louis O. Schwartz, President of the American Sportscasters Association.
Walton was a standout basketball player at UCLA playing under the legendary John Wooden from 1972-1974. He won two NCAA Championships, was a three-time All-American and won the NCAA Player of the Year award three times. Although his professional career was plagued with injury, Walton was the NBA's Most Valuable Player in 1978. He was inducted into the Basketball Hall of Fame in 1993 and was selected as one of the NBA's 50 Greatest Players of All-Time in 1997.
Walton began his sportscasting career in 1990 as an analyst for the Prime Ticket Network. He then joined NBC, working with the likes of Marv Albert and Steve "Snapper" Jones. Walton has also worked for CBS, Fox, MSNBC, Turner Sports and KCAL. In 2002 he was hired as the lead analyst for ABC/ESPN's coverage of the NBA. He is also a regular contributor to ESPN.com, NBA.com, ESPN The Magazine and ESPN Radio.
The new ASA Board of Directors will consist of Dick Enberg, Jon Miller, Jim Nantz, Bill Walton and Lou Schwartz. The ASA was founded in 1980.