"Awesome Baby!"
ASA Member Dick Vitale
Voted Into Basketball Hall of Fame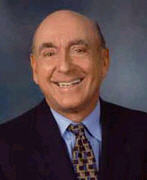 An emotional Dick Vitale, in his fourth time being nominated for enshrinement into the Naismith Memorial Basketball Hall of Fame, was one of seven selected Monday, April 7, to the class of 2008.
The ceremony took place in San Antonio where ASA Advisory Board member and CBS sportscaster Jim Nantz served as the host.
Also elected were NBA Legends Patrick Ewing, Hakeem Olajuwon and Adrian Dantley; coaching greats Pat Riley and Cathy Rush; and Detorit Pistons owner Bill Davidson.
Finalist needed 18 of 24 votes from the Honors Committee for election into the Naismith Memorial Basketball Hall of Fame. The Class of 2008 will be enshrined during festivities in Springfield, MA September 4-6, 2008.
Normally never at a loss for words, Vitale -- who first revealed his election to listeners of ESPN Radio's "Mike and Mike in the Morning" -- took several deep breaths before being able to describe what the honor means to him.
"I'm just in awe ... I have to tell you, I cried like a baby," Vitale told listeners. He also became emotional when interviewed at Monday's formal announcement in San Antonio, site of the Final Four.
Vitale tried to put into words what being placed among the game's all-time greats means to him.
"To have my bust up there with people I idolize, people that I'm in awe of," Vitale said. "People like the John Woodens and the Dean Smiths and the Bob Knights and the Mike Krzyzewskis. ... All these people like Oscar Robertson and Jerry West ... I think about the fact that a guy like myself, a sixth grade teacher out of New Jersey, chasing a dream. Never a great player, didn't have a big name as a coach. But because of ESPN and George Bodenheimer and all you beautiful people that I work with, have given me an opportunity to do something that I love."
Vitale admitted that until about a decade ago, he didn't know he could be considered for induction as a contributor to the game.
"Really, all I've been is a guy with one common denominator," he said. "I can't run. I can't jump. I can't shoot. But I've always had a terrific passion and enthusiasm for whatever I've tried to do in life.
"I get so emotional about it. I can't believe, I can't believe that I will be there with those people who I used to go to Madison Square Garden and sit up in the third deck and watch them play ... and now going to be among those people. It's just incredible."
Vitale, who missed two months this season as a result of vocal cord surgery on Dec. 18, returned Feb. 6 to call Duke at North Carolina. Prior to that, Vitale had never missed a game in his 29 seasons at ESPN.
Vitale, a former high school, college and professional basketball coach, has become one of the most well-known commentators in all of sports television and played a pivotal role in the development of the concept of "March Madness."
On Sunday, Vitale learned he also was selected for induction into the National Collegiate Basketball Hall of Fame Class of 2008 as a contributor to the sport. The announcement was made Sunday in San Antonio by the National Association of Basketball Coaches Foundation.