Lesley Visser Becomes First Woman NFL TV Analyst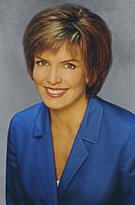 NEW YORK -- CBS Sports' Lesley Visser, voted the No. 1 Female Sportscaster of all-time by the American Sportscasters Association, broke new ground as the first woman analyst for a television broadcast of an NFL game.
On Thursday, Sept. 3, Visser served as a color commentator for the fourth quarter of the Miami Dolphins-New Orleans Saints pre-season game seen on WFOR-TV (Ch. 4), the CBS affiliate in Miami. She works the Dolphins pre-season games with fellow ASA member Bob Griese, Nat Moore and CBS Sports play-by-play announcer Craig Bolerjack.
"Lesley Visser is one of the most accomplished sportscasters in history," said Shaun McDonald, President/General Manager of WFOR-TV/CBS4 and WBFS/My 33. "She's not only an inspiration for others and a pioneer in breaking down boundaries, but she also sets a standard that every other sportscaster aspires to achieve. Needless to say, we're delighted that she'll be contributing her expertise to our final preseason game."
"Having had many challenges in my career, I am especially excited about this one," said Visser, who was the NFL's first female beat writer in 1976 when she covered the New England Patriots for the Boston Globe. "I am grateful to CBS for giving me this opportunity."
This season, Visser, the only woman in the Pro Football Hall of Fame as the recipient of the 2006 Pete Rozelle Radio and Television Award, will be working her 36th year of NFL coverage. She will contribute to THE NFL TODAY, the CBS Television Network's pre-game show, and cover her 23rd Super Bowl when CBS broadcasts Super Bowl XLIV on February 7, 2010 in Miami. Visser became the first female color analyst on radio when she worked selected Monday Night Football games for Westwood One with Howard David and Boomer Esiason in 2002.