Vin Scully's
Final Appearance in Anaheim
Captured by LA Angels Sportscaster
Amaury Pi-Gonzalez

I thought you might enjoy the following photo and note sent to me by  Amaury Pi-Gonzalez, longtime ASA member and Spanish Voice of the LA Angels of Anaheim, who captured Hall of Fame broadcaster Vin Scully in his final appearance at Angel Stadium in Anaheim on May 19th.
~ Lou Schwartz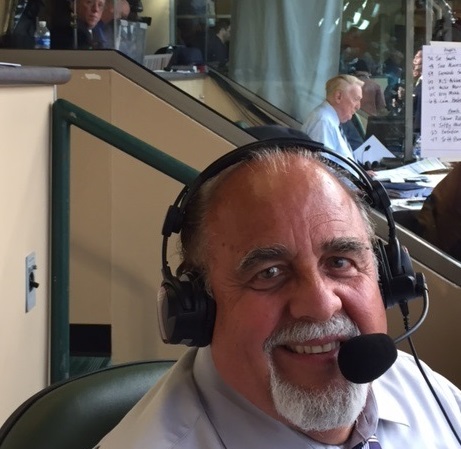 Amaury Pi-Gonzalez
LA Angels of Anaheim
"My broadcast partner and FOX analyst, Jose Mota, took this picture from our broadcast booth and in the background (TV visiting booth) you can see legendary baseball announcer Vin Scully. This was Scully's last game ever from Angel Stadium, Anaheim, as he has announced his retirement after this season. A 67-year career as the Voice of the Dodgers from 1950 in Brooklyn, New York, to today's Dodgers in Los Angeles. The Angels had a special reception for Scully prior to the game. Scully gave me a baseball with his autograph prior to the game."
~ Amaury Pi-Gonzalez
LA Angels  of Anaheim

*                         *                            *