ASA Names "Top 15 Women Sportscasters," Visser Voted No. 1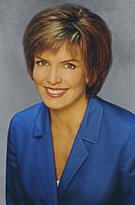 Lesley Visser, veteran CBS sportscaster, was chosen as the number one female sportscaster by the members of the American Sportscasters Association (ASA), it was reported today by Lou Schwartz, President of the ASA.
"Lesley Visser is truly a 'pioneer and standard bearer' for women sportscasters and we are delighted by her selection," stated Schwartz.
"Personable and passionate, Lesley has distinguished our profession with her journalistic integrity and is highly deserving of this honor," stated Dick Enberg, ASA Chairman.
Visser was chosen over 36 finalists in this ASA national poll. The Top 15 in order of selection are: Lesley Visser (CBS), Andrea Kremer (NBC), Robin Roberts (ABC/ESPN), Michele Tafoya (ESPN), Hannah Storm (ESPN), Mary Carillo (HBO), Linda Kohn (ESPN), Andrea Joyce (ABC/ESPN), Suzy Kolber (ABC/ESPN), Phyllis George (CBS), Bonnie Bernstein (ESPN), Pam Oliver (FOX), Donna de Varona (ABC), Judy Rankin (ABC/ESPN), and Ann Meyers-Drysdale (NBC).
Some of Lesley Visser's career accomplishments:
- First and Only Woman Enshrined into Pro Football Hall of Fame
- First Woman Assigned to Legendary Series "Monday Night Football"
- First Woman Assigned to a Super Bowl Sideline
- First and Only Woman to Handle a Super Bowl Trophy Presentation
- First Woman Sportscaster to Carry the Olympic Torch
- Only Sportscaster, Male or Female, to Have Worked on the Network Broadcast of the Final Four, The Super Bowl, The World Series, The NBA Finals, The Triple Crown, The Olympics, The US Open and the World Figure Skating Championship
- Named one of the Ten Pioneers of Women's Sports by USA Today
- Named one of the 100 Luminaries in the History of CBS

The Board of Directors of the ASA, founded in 1980, are Dick Enberg, Jon Miller, Jim Nantz, Bill Walton and Lou Schwartz.