Tony Gwynn, San Diego Padres Hall of Famer, Dies


by Lou Schwartz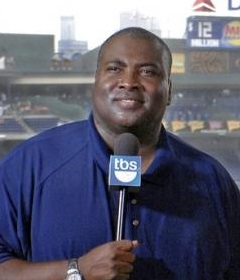 June 16, 2014 - Tony Gwynn, San Diego Padres Hall of Famer and TV analyst, has died, the Padres  announced today. He was 54.

Gwynn, a 16-time All-Star and eight-time batting champion, had been battling salivary gland cancer and had a tumor removed from his cheek in 2009 only to see it return twice. He underwent radiation treatment in 2012 and received additional treatment this past March. 

Affectionately known as "Mr' Padre," Gywnn spent his entire 20-year career in San Diego. He is the Padres' all-time leader in batting average (.338), at-bats (9,288), hits (3,141), doubles (543), triples (85), RBI (1,138), runs scored (1,383), walks (790) and stolen bases (319).

In 2004, the Padres retired his No. 19 jersey and, along with the City of San Diego, dedicated the street adjacent to Petco Park as "Tony Gwynn Drive." The club also unveiled a statue of Gwynn outside the stadium in 2007. That same year he was elected to the Baseball Hall of Fame with a 97.61% voting percentage, the seventh highest in the history of Cooperstown.
For the last 10 seasons, Gwynn served as a TV analyst for the Padres on FOX Sports, sharing the booth with ASA Chairman and play-by-play voice Dick Enberg. He also did some post-season work for TBS and was recently recruited as a Yahoo! Sports expert analyst.
Gwynn also held the title of head baseball coach at his alma mater, San Diego State University, since 2003.

Gwynn is survived by his wife, Alicia; son, Anthony, who has played parts of seven Major League seasons (including two in San Diego); and daughter, Anisha, who is a nationally acclaimed recording artist.
*                        *                            *