Tommy Lasorda, Longtime LA Dodgers Manager, Suffers Mild Heart Attack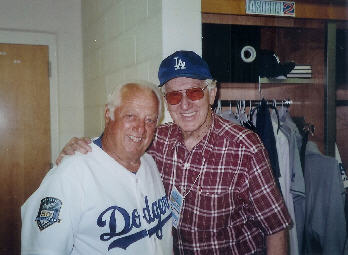 Tommy Lasorda & ASA President Lou Schwartz
Spring Training 2008 - Dodgertown, Vero Beach, Fla.
June 5, 2012 - Longtime Los Angeles Dodgers manager Tommy Lasorda was hospitalized after having what the team called a "mild" heart attack on Monday evening in New York.
The 84-year-old Hall of Famer became ill while in town to represent the club at the Major League Baseball draft.
The team said Tuesday that Lasorda had a stent inserted to repair a blocked artery and was resting comfortably at New York Presbyterian Hospital. He plans to return home on Wednesday.
Lasorda has been the Master of Ceremonies for several ASA Hall of Fame Dinners.

Tommy Lasorda, Gen. Westmoreland, Don Dunphy, Lou Schwartz, Bud Greenspan, Vin Scully, Marylou Whitney and Jack Brickhouse
8th annual ASA Hall of Fame Dinner - December 3, 1992