ASA Remembers
Los Angeles Dodgers Legend
Tommy Lasorda

1927-2021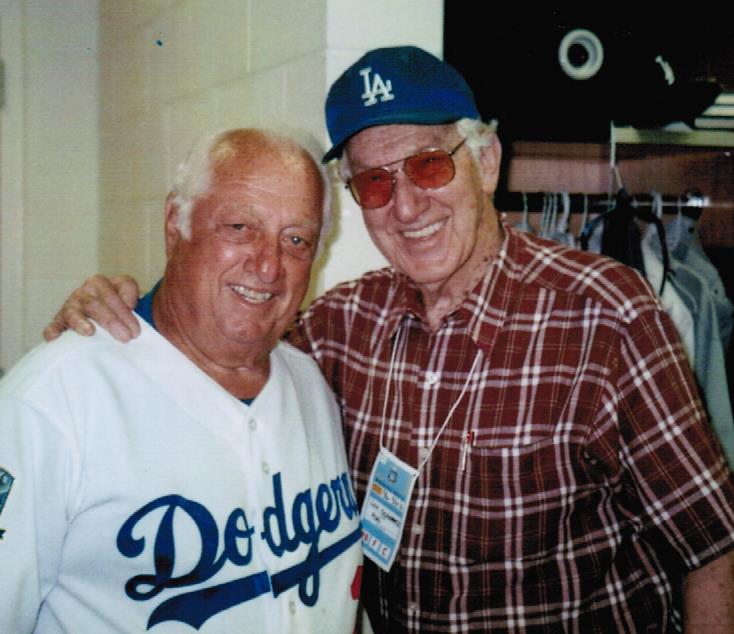 Lou Schwartz visiting with Tommy Lasorda during Spring Training at Dodgertown, Vero Beach, Fla.
FOR IMMEDIATE RELEASE
January 9, 2021 - It is with extreme sadness that I have learned of the passing of legendary Los Angeles Dodgers manager Tommy Lasorda.
Tommy was a dear friend and a strong supporter of the ASA. I have fond memories of visiting with him at Dodgertown back when the team held their spring training in Vero Beach, Fla.

In 1992, Tommy was front and center to make the award presentation to Vin Scully when the "Voice of the Dodgers" was inducted into the ASA Hall of Fame. He even served as the Master of Ceremonies for several ASA Hall of Fame Dinners. He was a true ambassador for the Dodgers and the game of baseball and will be sorely missed.

I'd like to share with you the following story on Tommy's passing written by ASA Advisory Board Member Amaury Pi-Gonzalez that I thought you might enjoy.  Pi-Gonzalez is a pioneer in Spanish-language announcing, having covered the San Francisco Giants, Oakland A's and LA Angels of Anaheim, just to name a few.
~ Lou Schwartz, ASA President

Tommy Lasorda
Ambassador and Character of the game

"That's Amaury News and Commentary"

By Amaury Pi-González

With the passing of Tommy Lasorda, baseball lost a baseball man, Ambassador of the game and a character in every sense of the word. He was a Hall of Fame manager than won two World Series for the Los Angeles Dodgers.

His name became synonymous with his love for Dodger Blue and the franchise. His playing career as a pitcher was short, in the mid 1950's with the Brooklyn Dodgers and the Kansas City Athletics. He also pitched in Cuba in the old Cuban Professional Winter League. Lasorda passed this Thursday, January 7, 2021 in Los Angeles.

He was 93 years old. During the times I spoke with him, he spoke conversational Spanish and was mostly a guy that once you met him you liked him because of his connection to the game, his sense of humor and his many stories.

In 1977 I was in Dodger Stadium covering the World Series between Tommy's Dodger team and the New York Yankees, managed by Billy Martin. The Yankees won that Series in six games. Very early, even before the team arrived at Dodger Stadium, I was there with my tape recorder waiting for the Dodgers to arrive and my main interview in mind was Tommy Lasorda.

In those days there was not as much media as today, especially during a World Series. It was basically the local people in each city and some of the national writers and reporters. So the younger crowd gets an idea, in 1977 ESPN was not around yet, sports channels were few and mainly in places like Los Angeles and New York.

One of the biggest baseball network was WTBS the official television station of the Atlanta Braves, who televised the Braves games on cable for the whole country. I did speak with him behind the batting cage prior to the game and was lucky to get a few minutes one-on-one interview, which I fed to a station in San Francisco and also WQBA AM in Miami, as I was also doing interviews and reports.

That was not the only time I was to speak to Lasorda. But in that instance in 1977, I had to go up to the press box and with my alligator clips (an instrument used to get the audio from a tape recorded to a radio station for airing) for a feed of the interview with Tommy who was popular in Miami with the Cuban community. He was the Grand Marshall for the largest Cuban-American parade at Calle Ocho.

If you walked inside Tommy Lasorda's office inside the Dodgers clubhouse at Dodger Stadium, you saw the walls decorated with a Who's Who of Hollywood, photos from Frank Sinatra, to Bob Hope to a galaxy of other movie stars. He was the perfect character for a city that is the capital of show-business.

Tommy could be funny and sometimes not very funny, if he lost a game, he was not in a good mood and would take him longer to have his post game pasta meal he loved. He was the owner of a Pasta and Ribs restaurant for a few years.

Last time I saw Tommy Lasorda it was at Dodger Stadium when the LA Angels were playing, a few years ago. He was walking very slowly and had a handler with him. I was not aware he was going to walk inside the Angels dressing room.

My focus with my cameraman was waiting to interview a player for the Spanish pregame show for our telecast of the game on Fox Sports West. I just said a few words to him in Spanish; he smiled, answered briefly and kept walking.

During the last few years, Tommy was seen many times on television sitting behind the plate at Dodger Stadium. His health deteriorated, but made it to the ripe age of 93 and saw his beloved Dodgers win the World Series in 2020, for the first time since he managed the last Dodger World Series title in 1988 over Tony La Russa's Oakland Athletics.
The autographed ball is from my personal collection.

Rest in Peace Tommy.

Stay well and stay tuned.