Tom Cheek, Voice of the Toronto Blue Jays, Dies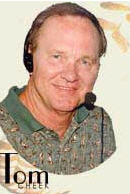 Canadian Press
ASA member Tom Cheek, who broadcast 4,306 regular-season Toronto Blue Jays games and all of their 41 postseason games, including both their World Series, has died.
Cheek, 66, had been convalescing at his home in Oldsmar, Fla. He had surgery for a brain tumour on June 13, 2004, his 65th birthday.
The surgery came 10 days after the death of his father caused him to miss the Blue Jays game against the Oakland Athletics in Oakland.
He came back to work several home games in the 2004 season with long-time broadcast partner Jerry Howarth and there where hopes that he could return to the booth for some games this past season but he was not able to.
Until his father's death, Cheek had covered every Blue Jays game since the first one, April 7, 1977, at a snowy Exhibition Stadium.
Cheek said that that first game won by the expansion team over the Chicago White Sox ranked as his top Blue Jays' memory.
And there were plenty to choose, from the first American League East title in 1985 to the two World Series victory, including the 1993 victory over the Philadelphia Phillies that was ended dramatically by Joe Carter's three-run homer in the bottom of the ninth.
Cheek's call was is entrenched in baseball lore: "Touch 'em all Joe. You'll never hit a bigger home run in your life."
Cheek was always modest about the string of consecutive games. He said he never gave much thought to it and that he was just doing his job.
"And this is where I want to be," he would say.
When people would ask him how many games he had done in a row, he wouldn't know until someone figured it out.
Cheek was a strong family man and his wife, Shirley, who is from Hemmingford, Que., was at all the home games and also attended some road games. He is survived by a daughter, Lisa, and sons, Tom Jr. and Jeff.
Cheek admitted to feeling pangs on a Sunday afternoon when he saw families going on outings while he was going to do another baseball game.
He also expressed a regret at missing his daughter's college graduation to do a baseball game even though all in the family approved of his decision.
He was honoured at the Rogers Centre, then known as the SkyDome, on Aug. 29, 2004 and there were tears in his eyes as a banner with his name was placed on the wall above the right-field stands between banners honouring former pitcher Dave Stieb and former general manager Pat Gillick.
He didn't know until that day that he was becoming the seventh member of the club's Level of Excellence.
Other members of the Level of Excellence are former players George Bell, Joe Carter and Tony Fernandez and former manager Cito Gaston.
Earlier this year, Cheek was a finalist for the Ford C. Frick Award that was given to former major-league player and San Diego Padres announcer Jerry Coleman. The award is presented annually by the U.S. Baseball Hall of Fame for major contributions to baseball broadcasting.
Cheek said back in February when the award was announced that the big thing for him was being nominated. "There are some names and some things that guys on that list have done that blows me away," he said. "And I understand that. Just having my name on that list is pretty nice, pretty nice."
This August, Canada's Sports Hall of Fame working with the Blue Jays announced the creation of the Tom Cheek Media Leadership Award.
The award will recognize from time to time an individual from the media who, in the opinion of the Board of Governors of hall, has played a vital role in promoting Canadian sport in an extraordinary and enduring way.
Cheek was born in Pensacola, Fla. He attended the Cambridge School of Broadcasting in Boston. He began in radio in Plattsburg. N.Y. and then moved to Burlington. Vt., where for nine years he was corporate sales manager for a group of three radio stations in Burlington and Rutland. He did play-by-play in basketball, football and hockey for the University of Vermont.
He was the swing man for the Montreal Expos radio broadcasts on the nights the team was on television from 1974 to 1976. He was a member of the ABC Sports team that broadcast the Winter Olympics in 1980 at Lake Placid and in 1984 at Sarajevo. He also broadcast college basketball for the Mutual Radio Network.