Tom Cheek Named Recipient
of 2013 Ford C. Frick Award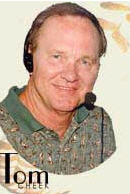 (COOPERSTOWN, NY) Dec. 5, 2012 – Tom Cheek, who called the first 4,306 regular-season and 41 postseason games in Toronto Blue Jays history and helped ignite a love affair between a Canadian city and America's National Pastime, has been selected as the 2013 recipient of the Ford C. Frick Award, presented annually for excellence in broadcasting by the National Baseball Hall of Fame and Museum.
Cheek, longtime ASA member who passed away on Oct. 9, 2005, will be honored as part of Hall of Fame Weekend 2013 July 26-29 in Cooperstown, N.Y. Cheek becomes the second Frick Award winner whose career came primarily with a Canadian team, following Dave Van Horne's selection as the Frick Award winner in 2011. Van Horne spent parts of four decades broadcasting Montreal Expos games.
"Tom Cheek was the voice of summer for generations of baseball fans in Canada and beyond," said Hall of Fame President Jeff Idelson. "He helped a nation understand the elements of the game and swoon for the summer excitement that the expansion franchise brought a hockey-crazed nation starting in the late 1970s. He then authored the vocal narrative of a team that evolved into one of the most consistent clubs of the 1980s and 1990s. We are thrilled to celebrate Tom's legacy with baseball broadcasting's highest honor."
Born June 13, 1939 – one day after the National Baseball Hall of Fame and Museum opened its doors in Cooperstown – in Pensacola, Fla., Cheek was raised in a Navy family and joined the armed forces himself in 1957, serving in the Air Force until discharged in 1960. Cheek's father, also named Tom, was a World War II hero who served as a fighter pilot in the Battle of Midway in 1942.
After continuing his education at SUNY Plattsburgh and the Cambridge School of Broadcasting in Boston, Cheek worked as a disc jockey in Plattsburgh, N.Y., and as sports director for a group of three stations in Burlington, Vt., calling University of Vermont sports for several years.

In 1974, Cheek began work as a backup announcer to Van Horne on Expos broadcasts. Then in 1976 at the age of 37, he landed the job as the radio voice of the expansion Blue Jays. Paired first with Hall of Fame pitcher Early Wynn and later with Jerry Howarth starting in 1981, Cheek's rich baritone voice and his passionate-yet-lighthearted approach to his job dazzled fans eager to embrace Toronto's new role as an American League outpost.
His call of Joe Carter's World Series-winning home run in Game 6 of the 1993 Fall Classic – "Touch 'em all Joe! You'll never hit a bigger home run in your life." – quickly became embedded in the sports conscious of Blue Jays fans around the globe.
Cheek called every regular season and postseason Blue Jays game from the franchise's birth on April 7, 1977 through June 2, 2004. The next day, Cheek took the first of two days off to attend the funeral of his father. But upon his return, Cheek sensed he was not right physically when he was unable to retain information he had read only minutes earlier. On June 13, 2004 – his 65th birthday – Cheek underwent surgery to remove a brain tumor, but some of the tumor was unreachable.
A little more than a year later, Cheek passed away on Oct. 9, 2005.
Cheek was inducted into the Blue Jays Level of Excellence in 2005. That same year, the Canadian Sports Hall of Fame established the Tom Cheek Media Leadership Award, with Cheek being honored with the first award.
Cheek will be honored at the Hall of Fame's Awards Presentation on Saturday, July 27 in Cooperstown, along with 2013 J.G. Taylor Spink Award winner Paul Hagen.
Umpire Hank O'Day, Yankees owner Jacob Ruppert and 19th Century catcher/third baseman Deacon White, who were elected on Monday by the Pre-Integration Era Committee, will be inducted as part of Hall of Fame Ceremonies on July 28, along with any electees who emerge from 2013 Baseball Writers' Association of America election, to be announced Jan. 9.
Cheek was chosen from a list of 10 finalists selected in October, featuring three fan selections from an online vote and seven broadcasters chosen by a research committee from the Cooperstown-based museum. The final ballot contained a mix of pioneers and current-day broadcasters: Ken Coleman, Jacques Doucet, John Gordon, Bill King, Graham McNamee, Eric Nadel, Eduardo Ortega, Mike Shannon, Dewayne Staats and Cheek. Doucet, Gordon, Nadel, Ortega, Shannon and Staats were the living candidates. In September and October, a total of 34,283 votes were cast in the Museum's online fan poll for inclusion on the final 10-name ballot, with Cheek, King and Doucet as the top three fan poll selections.
The 21-member electorate, comprised of the 16 living Frick Award recipients and five broadcast historians/columnists, includes Frick honorees Marty Brennaman, Jerry Coleman, Gene Elston, Joe Garagiola, Jaime Jarrin, Milo Hamilton, Tony Kubek, Denny Matthews, 2012 Frick Award winner Tim McCarver, Jon Miller, Felo Ramirez, Vin Scully, Lon Simmons, Bob Uecker, Dave Van Horne and Bob Wolff, and historians/columnists Bob Costas (NBC), Barry Horn (Dallas Morning News), Stan Isaacs (formerly of NY Newsday), Ted Patterson (historian) and Curt Smith (historian).