ESPN's Suzy Kolber Speaks About Joe Namath 'Kissing' Incident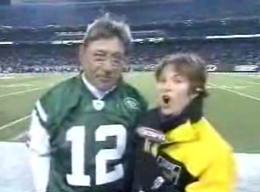 (Courtesy of Sporting News)
ESPN reporter Suzy Kolber has spoken publicly for the first time about former New York Jets quarterback Joe Namath's attempt to kiss her on live television.
"I felt like, 'uh-oh,' Joe is in trouble here and let's get him out of it," says Kolber in an interview for an HBO documentary on Namath that will air Saturday. "Get him off the air as quickly as possible."
Kolber said she hadn't spoken about the incident before because "I knew he wanted it to go away."
The sideline incident occurred during a December 2003 game between the Jets and New England Patriots at Giants Stadium. Namath was among several former Jets being honored at the Saturday night game aired by ESPN.
Kolber said that before the interview took place the two never had a chance to talk "because he wouldn't stand still."
She said in the documentary: "When we first started talking and he was slow and deliberate in his speech, what was going through my head was, 'Maybe it's just really cold.' And none of the executives in the truck were alarmed either because nobody said (to) stop ... The direction in my earpiece was, 'keep going.'
In what has since become an infamous moment, an inebriated Namath said to Kolber, "I want to kiss you," adding that he "couldn't care less" about what was happening with the Jets team.
Kolber laughed off the line on-air, calling it "a huge compliment."
Reflecting on the incident years later, Kolber said, "I think the way I felt about it at the time was that he's a really good guy having a bad moment that happened to be captured on national television."
Namath called Kolber days later to apologize and said "he felt humiliated."
Namath has said the entire episode made him realize he needed to address his drinking problem.
"I feel awful about what I exposed her to that night," said Namath.