ASA Attends St. Jude's Charity Event in Washington, D.C.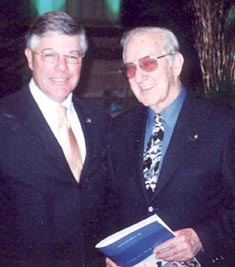 UBS Senior Vice President and Event Chairman Thomas C. Wertz(l.) and ASA President Lou Schwartz


The American Sportscasters Association was a guest at the 7th annual Gourmet Gala Charity Auction in Washington, D.C., on February 22 for the St. Jude Children's Research Hospital.
Lou Schwartz, President of ASA, presented to Mr. Thomas C. Wertz, UBS Senior Vice President and Chairman of the event, an autographed baseball by former Baltimore Orioles great Cal Ripken, Jr., an autographed copy of CBS sportscaster Dick Enberg's new book, Oh My!!, and an autographed copy of San Francisco Giants & ESPN baseball announcer Jon Miller's book, Confessions of a Baseball Purist, to be listed in their fund raiser auction.
"This is the second year that ASA has participated in this most worthwhile charity event," Schwartz said." "We look forward to increasing our support and involvement with St. Jude Children's Research Hospital, which is recognized as one of the world's premier centers for the study and treatment of catastrophic diseases that effect our greatest assets, our children."