Stephen A. Smith Receives One Week Suspension from ESPN for Ray Rice Comments
by Lou Schwartz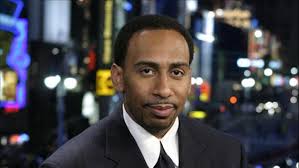 FOR IMMEDIATE RELEASE
July 30, 2014 - In the wake of Stephen A. Smith's comments regarding Baltimore Ravens running back Ray Rice's two game suspension for striking his fiancée, ESPN has hit the "First Take" co-host with a suspension of his own.

The network announced on Tuesday that Smith will not appear on "First Take" or his ESPN radio show for one week. We will return next Wednesday.

It all started last Friday while Smith and co-host Skip Bayless were discussing Rice's two game  suspension handed down by the NFL. During the debate, Smith suggested that women should examine their role in provoking domestic violence incidents. 
"Let's make sure we don't do anything to provoke wrong action ... we got to also make sure that you can do your part to do whatever you can do to make, to try to make sure it doesn't happen again," Smith said.
These comments were met with anger and outrage, from the public and many of Smith's colleagues.

"Sport Nation" host Michelle Beadle sent out a series of tweets directed at Stephen A. denouncing his comments.

"So I was just forced to watch this morning's First Take - A) I'll never feel clean again, and B) I'm now aware that I can provoke my own beating," Beadle wrote. Violence isn't the victim's issue. It's the abuser's. To insinuate otherwise is irresponsible and disgusting."

On Monday, prior to the airing of "First Take," Smith appeared in a taped segment and offered an apology for his statements, calling what took place "the most egregious mistake of my career."

Apparently the damage was already done, as ESPN President John Skipper on Tuesday sent an in-house memo to ESPN staffers alerting them of their decision to suspend Smith for one week.
*                     *                            *