THE NATIONAL TELEVISION ACADEMY PRESENTS THE 28th ANNUAL SPORTS EMMY AWARDS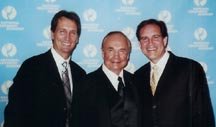 Sports Emmy presentors Cris Collinsworh, Dick Enberg and Jim Nantz
New York, NY – April 30, 2007 – Winners of the 28th Annual Sports Emmy Awards were announced the National Academy of Television Arts & Sciences at a special ceremony at Frederick P. Rose Hall, Home of Jazz at Lincoln Center in New York City. ASA President Lou Schwartz joined the prominent sports broadcasters, athletes and executives who attended the star-studded ceremony.
The awards were presented by a distinguished group of sports figures and television personalities including: veteran sportscaster Bob Costas (host of NBC's Olympics coverage and HBO's "CostasNow"); former Cincinnati Bengals wide receiver Cris Collinsworth (sports analyst for NBC's NFL coverage and HBO's "Inside the NFL"); veteran sports broadcaster and HBO boxing commentator Jim Lampley; sports commentator Mary Carillo (HBO's "Real Sports with Bryant Gumbel"); champion heavyweight boxer Wladimir Klitschko, (HBO); sports announcer Joe Buck (FOX Sports NFL and MLB); lead game analyst Tim McCarver (MLB on FOX); champion NASCAR driver and lead analyst for NASCAR on FOX Darrell Waltrip; champion crew chief and FOX race analyst Jeff Hammond; Jim Nantz, lead play-by-play announcer, NFL on CBS and play-by-play broadcaster for college basketball and golf on CBS; play-by-play announcer Dick Enberg (CBS); studio host Ernie Johnson, (TNT's "Inside the NBA"); play-by-play announcer Chip Caray, (TNT); play-by-play announcer Mike Tirico, (ESPN's "Monday Night Football"); ESPN sideline reporter Suzy Kolber ("Monday Night Football") and former New York Knicks guard and ESPN's NBA analyst Mark Jackson.
Winners in 30 categories including outstanding live sports special, sports documentary, studio show, play-by-play personality, and studio analyst were honored. This year, three Emmy Awards for outstanding sports content – event coverage, long-form and general interest – delivered via broadband, including the Internet, cell phones, personal media players and other devices were also presented.
One of the highlights of the evening was the presentation of the Lifetime Achievement Award to Don Ohlmeyer, legendary television producer/director/executive and winner of 16 Emmy Awards. Ohlmeyer has enjoyed one of the most varied careers in the history of television. He has served as Executive Producer, Producer, Director and Writer for entertainment and sports programming since 1967, and served as President, NBC West Coast, overseeing the activities of all the company's entertainment-related businesses, including NBC Entertainment, NBC Studios and NBC Enterprises, 1993-2000.
The Sports Emmy Award recipients were chosen by a Blue Ribbon Panel of their peers from over 700 entries in 30 categories. The awards recognize outstanding achievement by individuals and programs broadcast throughout the 2006 calendar year.
A breakdown of the Awards by broadcast and cable entities as tabulated by the independent accounting firm of Lutz and Carr, LLP, New York, follows:
NBC 9
TNT 4
ABC 4
ESPN 4
HBO 3
CBS 1
NFL Network 1
Fox Sports Net 1
ESPN.com 1
Race2Replace.com 1
FOX 3
ESPN2 1
Beingstanley.com 1
NASCAR Images 1

AND THE WINNERS ARE:
OUTSTANDING SPORTS PERSONALITY – STUDIO HOST: Ernie Johnson – TNT
OUTSTANDING SPORTS PERSONALITY – PLAY-BY-PLAY: Al Michaels - ABC/NBC
OUTSTANDING SPORTS PERSONALITY – STUDIO ANALYST: Cris Collinsworth - HBO/NBC
OUTSTANDING SPORTS PERSONALITY – SPORTS EVENT ANALYST: Cris Collinsworth - NFL Network
OUTSTANDING LIVE SPORTS SPECIAL: MLB on FOX: Post Season - FOX
OUTSTANDING LIVE SPORTS SERIES: NASCAR on TNT & NBC - TNT/NBC
OUTSTANDING LIVE EVENT TURNAROUND: Beyond the Wheel - NASCAR Images/SPEED
OUTSTANDING EDITED SPORTS SPECIAL: 2006 Ford Ironman World Championship - NBC/ronman Productions
OUTSTANDING SPORTS DOCUMENTARY: One of a Kind: The Rise and Fall of Stu Ungar - ESPN/Red Line Films
OUTSTANDING EDITED SPORTS SERIES/ANTHOLOGY: Real Sports with Bryant Gumbel - HBO
OUTSTANDING STUDIO SHOW - WEEKLY: Sunday NFL Countdown - ESPN
OUTSTANDING STUDIO SHOW - DAILY: Inside the NBA – Playoffs –TNT
OUTSTANDING SPORTS JOURNALISM: Real Sports with Bryant Gumbel – HBO - "Uninsured"
OUTSTANDING SHORT FEATURE: NCAA Men's Basketball Tournament - CBS Jason McElwain
OUTSTANDING LONG FEATURE: SportsCenter – ESPN - Travis Roy
OUTSTANDING OPEN/TEASE: Indianapolis 500 – ABC & NBA Finals - ABC Basketball Hall of Fame
OUTSTANDING BROADBAND – COVERAGE: Race 2 Replace - Race2Replace.com Discovery Communications
OUTSTANDING BROADBAND – LONG FORM: The Real Frozen Tundra - Barrow, Alaska - ESPN.com
OUTSTANDING BROADBAND – GENERAL INTEREST: Being Stanley- Beingstanley.com, Catman & Mary Productions
OUTSTANDING TECHNICAL TEAM REMOTE: Sunday Night Football – NBC
OUTSTANDING TECHNICAL TEAM STUDIO: Fox NFL Sunday: Road Show – FOX & MansionPoker.net Poker Dome Challenge - Fox Sports Net
OUTSTANDING CAMERA WORK: Jeep World of Adventure Sports – NBC
OUTSTANDING EDITING: NBA on TNT – TNT
THE DICK SCHAAP WRITING AWARD: One of a Kind: The Rise and Fall of Stu Ungar – ESPN, Red Line Films
OUTSTANDING MUSIC COMPOSITION/DIRECTION/LYRICS:The XX Olympic Winter Games – NBC "The Stories of Torino" OUTSTANDING LIVE EVENT AUDIO / SOUND: NASCAR on FOX – FOX
OUTSTANDING POST PRODUCED AUDIO/SOUND: Timeless - ESPN2 2006 Season, Red Line Films
OUTSTANDING GRAPHIC DESIGN: The XX Olympic Winter Games – NBC
OUTSTANDING PRODUCTION DESIGN/ART DIRECTION: NBA Finals – ABC
THE GEORGE WENSEL TECHNICAL ACHIEVEMENT AWARD: The XX Olympic Winter Games – NBC "The High Definition Games"