Song Shixiong, ASA International Hall of Fame Inductee- 1995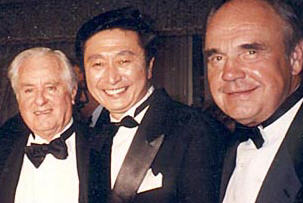 Curt Gowdy (l.) and Dick Enberg (r.) congratulate Song Shixiong on his induction into the ASA International Hall of Fame

On November 30, 1995, at the Eleventh Annual ASA Hall of Fame Awards Dinner, Song Shixiong became the third inductee into the ASA's International Hall of Fame. The following appeared in the journal given out at the event.
To the Chinese people, especially the vast numbers of sports fans, Song Shixiong, a native of Beijing, has become their "eyes and ears" at virtually all important sporting events.
Marked by eloquence, vivid descriptions, quick wit and enthusiasm, Mr. Song has done sports commentary for nearly 36 years, including more than 2000 matches involving 40 different events in the Olympic Games (1984, 1988 and 1992), World Club Soccer Games, World Championship games (Basketball, Table Tennis and Volleyball), and Asian Games.
For Mr. Song and China, 1978 was a very important year. It marked the first time China had sent a sports commentator outside the country to broadcast a sporting event when Song was sent to Bangkok to cover the Asian Games. From there, Song went on to cover sports throughout the world. His record of accomplishments are matched only by his achievements in building friendlier relationships between the Chinese athletes and athletes from other countries.
Song's efforts as a sports broadcaster and commentator on China Central Television (CCTV), as Vice Chairman of the China Research Institute for Broadcasting, as a guest professor at Beijing's Institute of Broadcasting, and Captain of the Chinese Star Football Team have made him a well-known and respected name in and out of China.
For his excellence and creative works in the field of sportscasting, his ability and willingness to popularize sports through international communication and understanding and promote the Olympic spirit, the American Sportscasters Association is honored to recognize Song Shixiong as its third International Hall of Fame Inductee.