ASA Urges FOX to Invite Legendary Announcer Vin Scully to Join Buck and McCarver for this year's World Series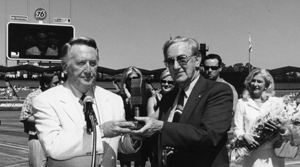 ASA President Lou Schwartz Presents Vin Scullly with "Sportscaster of the Century" Award at Dodger Stadium- Sept. 2000
FOR IMMEDIATE RELEASE
July 19, 2011 – The American Sportscasters Association (ASA) strongly supports inviting Vin Scully, who was named "Sportscaster of the Century" in 2000 and "Top Sportscaster of All-Time" in 2009 by the members of the ASA, to work this year's World Series broadcast on FOX.
"Scully would be a wonderful addition to the fine team of Joe Buck and Tim McCarver. They would appeal to several generations of sportscasting fans and this special broadcast would be celebrated for years in the future," stated Lou Schwartz, President of the ASA.
"This movement, initiated by the Daily Stache website in June, would surely be embraced by ASA Hall of Famer Vin Scully if invited. We urge FOX Sports to seriously entertain this idea and extend a formal invitation to Scully," Schwartz said..
In a letter to FOX Sports, Schwartz concluded, "This most memorable broadcast would be a plus for the sponsors, the announcers Buck and McCarver, FOX Sports, and most of all, the fans."
* * *