Vin Scully & Dick Enberg

Members of the
American Sportscasters Association
Reflect on Two Sportscasting Giants
as Careers Come to an End

by Lou Schwartz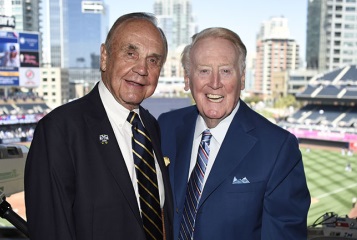 Dick Enberg and Vin Scully at Petco Park during their final season
Photo by Jon SooHoo

FOR IMMEDIATE RELEASE                      Contact: Patrick Turturro
New York, NY                                                   212-227-8080

October 5, 2016 - As the 2016 baseball regular season has come to an end, sadly, so too have the careers of broadcasting giants Vin Scully and Dick Enberg.

Scully has been synonymous with the Dodgers since 1950, when Red Barber was still in the "catbird seat" and the team still called Brooklyn's Ebbets Field its home. Scully, inducted into the ASA Hall of Fame in 1992, was voted the "Sportscaster of the Century" by the ASA membership in 2000, as well as the "Top Sportscaster of All-Time" in 2009. 

After an illustrious career on the national stage with NBC, CBS and ESPN,  Enberg returned to his first true love, baseball, spending the last six years as the TV voice of the San Diego Padres.  He is a 14-time Emmy Award winner, five-time winner of the ASA's Sportscaster of the Year Award and has long served as the organization's Chairman.

I have personally known these legendary sportscasters for many years and consider them friends. They are both such giants, both on the air and off, that it would take a book for me to properly describe what makes them so unique.

I believe the following comments and stories from fellow sportscasters who are ASA members will paint a better picture as to what makes them so special.

Bob Costas, NBC Sports: "Vin Scully's standing as baseball's greatest and most enduring voice has long been acknowledged and this season, has been properly celebrated. But it should also be noted, and fully appreciated, that for a very long time, Dick Enberg was as great an all-around sports broadcaster as network television has ever seen. In fact, given the range of assignments on which he excelled, if, in the 70's and 80's, and well into the 90's, there had been a decathlon of play-by-play, Dick would have won it. He and Vin are each on sportscasting's Mt. Rushmore."

Lesley Visser, CBS Sports: "To me, they both were the epitome of Tennyson's "Ulysses"  - 'To strive, to seek, to find, and not to yield,' - may the wind be always at their back." 

Bert Blyleven,  Baseball Hall of Famer & Minnesota Twins TV analyst: "I was very lucky to have grown up in Southern California and had the opportunity to listen to Vin Scully and Dick Enberg broadcast games for the Dodgers and the Angels.

"I actually learned my curveball listening to Vin Scully describe Sandy Koufax's curveball!

"Being born in Holland, my family and I immigrated into the United States, through Canada, in 1957. In the early 1960's, my dad would become a huge Dodgers fan and I would listen to the games with him. Baseball was a new game to my dad and his favorite Dodgers player was Frank Howard.
"In little league I began as a catcher but my coach asked me if I wanted to pitch. My dad told me about an interview with Vin Scully and Sandy Koufax about pitching and Sandy told Vin that if he ever had a son he wouldn't let his son throw a curveball until he was 14 or 15 years old. Koufax's Hall of Fame career ended because of his arthritic elbow and many thought it was because he started throwing his curveball at a very young age. So my dad told me I couldn't throw a curveball in little league so I did not!

"But listening to Vin Scully describe Koufax's curveball, called a 'drop' back then, stuck in my brain and when I was able to practice throwing a curveball I always visualized the tight rotation that Vin described!

"Thank you Hall of Fame Vin Scully for your love and passion for the game of baseball and your long and lustrous career. Your hard work, dedication and voice will be with me forever. God Bless you and your family!

"Dick Enberg did all the major sports as a broadcaster but meeting him personally I know he loved broadcasting baseball games the most.

"When the California Angels moved their franchise to Orange County in 1966 and living close by Anaheim Stadium, I would go to as many games as I could. Dick became the Angels play-by-play announcer in 1969, my senior year high school, and in 1973 he was teamed up with one of my boyhood heroes, Hall of Fame pitcher Don Drysdale.

"In 1977, pitching for the Texas Rangers, I pitched the only no-hitter in my career, in Anaheim, against the Angels. The radio broadcasters that night, on September 22, were Dick Enberg and Don Drysdale. I still have a tape of the radio broadcast, of the last 3 innings of that game, with Dick and Don describing my no-hitter. The next day both Dick and Don came down to the field and congratulated me and I will never forget that.

"Thank you Dick Enberg for your love and passion for the game of baseball. Your hard work and dedication to all sports will last with me forever. God Bless you and your family!"

Larry Zimmer, former voice of the CU Buffaloes & Denver Broncos: "I didn't have the pleasure of meeting Vin Scully, but have always admired his broadcasts and his use of the English language.
"I consider myself fortunate to have known Dick Enberg.  When I was doing the broadcasts of the Denver Broncos and Dick was doing the game on NBC, we would always chat before the game. I'm sure it was part of his thorough preparation to talk to those who covered the teams on a daily basis. 

"My last visit with Dick was a few years ago at Coors Field when the Rockies were playing the Padres.  I was there with my sports broadcasting class from the University of Colorado  School of Journalism.  I ran into Dick in the lunch room and he wanted to know about my class and some of the things that I covered in the class.  He said that he would really like to do that and I forwarded my class outline, syllabus, and notes for each week.  I don't know whether or not he ever got that teaching job, but now that he is retiring from the grind, I hope he does.  It is very rewarding and I know he would enjoy it."
Ann Liguori, WFAN Radio: "What a privilege and honor to have had the opportunity to listen and watch Vin Scully through the years. What a genius behind the microphone, a brilliant writer, observer, listener and story teller. His passion, hard work, consistency and meticulous preparation and research throughout his entire career has been both inspirational and refreshing! Thanks Vin Scully for all you do and are!"

Bob Carpenter, Washington Nationals  TV: "It was such a thrill on Opening Day 1984; Cardinals at Dodgers and a rookie announcer does his first game next door to Vin Scully.  What a thrill for me and for all these years Vinny always knew my name when we visited LA.  It has been great to get to know Dick Enberg in recent years when the Nationals played the Padres; a man I admired from afar for so many years.  Vin and Dick represent excellence in broadcasting, and both are wonderful gentlemen, never to be forgotten in broadcasting and baseball."

Tim Brando, FOX  Sports:  "There's no denying Dick Enberg had a great influence on my career.  In 1981 at The Final Four (NBC's last), I was a local sportscaster in Baton Rouge, LA. I was hosting LSU Coach Dale Brown's TV show and doing the city's first daily sports talk program.

"It was an exciting time for me, and at age 25 I was one of many that admired the three man booth of Dick Enberg Al McGuire and Billy Packer. I was bold enough to introduce myself to Dick and asked him what it was like working with Al, and he said "young man sometimes ya have to realize it's Al's world and just enjoy the ride.

"Later, after the Final Four, I visited Coach Brown's office on the LSU campus and on his wall I noticed a plaque with a spotting board laminated with a message underneath congratulating the Coach on his team's run to the Final Four. 

"Coach Brown said to me, "Tim, you remind me of a young Enberg, and he is pure class. I'll treasure this plaque as much as any award I will ever receive." The board included many nuggets on his players with anecdotes that Dick would potentially use on the telecast. I took a picture of the plaque and began using his system with my homework on my game assignments.

"Fast forward almost 17 years to 1998. I was working for CBS and was paired with Al McGuire for the NCAA Tournament. I called Dick, and by that time we had gotten to know one another better and I again asked him how to handle Al, and he echoed his point back in Philadelphia in '81.

"Tim, you've worked with Dick Vitale, Bill Raftery, and Billy Packer, but there's no one quite like Al"' Dick said. "It'll be the best three weeks of your career. It may take a while for him to remember your name, but he will love you and you'll love him. More importantly you'll learn a lot about life. He is a one of a kind."  He was so right!

"Enberg brought romance to sports play-by-play. He humanized the athlete and celebrated the lives of those he covered. A pro's pro and true gentleman. I'm proud to say I admired and later worked in network television with him."

Michael Barkann, Comcast Sportsnet: "I worked the U.S. Open with Dick Enberg for nine years while I was reporting/hosting for USA Network and Dick was calling matches for CBS.  Aside from his talent as a broadcaster, his work ethic was unparalleled. CBS aired the weekend matches, yet Dick was there for the morning matches on Day 1, roaming the grounds day and night making sure he had the background he needed on the players and the Open itself. 

"I'd been a Dick Enberg fan since I was a kid.  Watched everything he did(my favorite Enberg enterprise might have been Sports Challenge in the 70s- he was a game show host and great at it!). But what I'll always take with me about Dick is how kind and helpful he was to me.  I remember going up into the stands late one afternoon at Arthur Ashe Stadium to interview some Finnish fans of Finland's Jarkko Nieminen. Dick, who is of Finnish descent, suggested I use the Finnish word "sisu" during the interview.  Sisu means grit, bravery, guts, and resilience.  I tossed "sisu" around with the Finns and they got a big kick out of it and it made the interview.  Thanks Dick for all the help and congratulations on a great career."

Amaury Pi-Gonzalez, Spanish Voice, LA Angels of Anaheim: "Dick Enberg will always be remembered as a gentleman sportscaster who gave the best tributes to the greatest athletes & coaches in sports history.

"The last time I spoke with Vin Scully was on May 18,when the LA Dodgers were visiting the LA  Angels for a brief  two game inter-league series in Anaheim. I thanked him for all his many decades of entertainment and told him about my wife Gail, who was born in Los Angeles. Her dad used to take her to Dodger Stadium and she remembers very well listening to him on the radio.

"During the middle of that game,Boyd, his assistant, showed up in my booth, which is located next to the visiting TV crew, where Scully was doing the game. Boyd told me "here is this baseball autographed by Mr. Scully. He told me to give it to you".

"After the game, Vin was sitting on a golf cart ready to be taken to the parking lot,and soon as I came out of the elevator he said, "Maury, don't forget to say hi to Gail." Sixty-seven  years on the air, from one coast to the other,  a true legend of the game. It was a privilege for me to have known and worked next to this great man."

Dan Sileo, The Mighty 1090 Sports Radio: "I am so lucky that both Vin Scully and Dick Enberg were in my broadcasting career so I could be reminded everyday how much further I have to go in our business...TRUE GIANTS!"

George Eichorn, Exec. Director, Detroit Sports Broadcasters Association:  "Those of us involved in sports broadcasting here in the state of Michigan certainly treasure Dick Enberg of Armada Township and a proud graduate of Central Michigan University.  I know if they were still with us, our great baseball announcers Ernie Harwell, George Kell and Paul Carey would all give Dick (as well as Vin Scully) a standing ovation and a "high five" on a career well done! As Ernie would say, we have had "Two for the price of one" with these two baseball broadcast gems!"

Brian Goudsward, Aspiring Sportscaster: "To me, Vin Scully is what listening to a baseball game is all about. His ability to paint the proverbial picture of the game on the field, while sprinkling in his stories of the game about players past and present is unmatched by anyone. He epitomizes the profession of broadcasting and his long record of success as well as his unprecedented longevity of his craft tells you all you need to know. There simply has never been anyone as good as Vin Scully behind the microphone. His legacy will always be one of a legend."

Tony Lasco, Media Network, Australia: "Vin Scully's memorable broadcast of Sandy Koufax's NO-HITTER in 1965 has taught me so much about how Sports Broadcasting can enrich the lives of people through the monumental achievements of athletes."
              *                                       *                                              *