Ryan Leaf
Hired by ESPN as a
College Football Analyst

by Lou Schwartz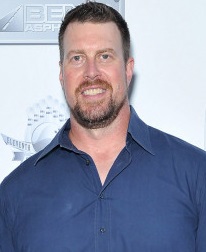 Ryan Leaf

FOR IMMEDIATE RELEASE
July 19, 2019 - Ryan Leaf, the former NFL quarterback who battled drug addiction and spent time in prison, has joined ESPN as a college football analyst.

Leaf will call games mostly on ESPN2 and ESPNU and will be paired with play-by-play announcer Clay Matvick.
The hiring by ESPN speaks volumes as to how Leaf has been able to turn his life around.

Leaf, who was selected second overall by the San Diego Chargers in the 1998 NFL draft behind Peyton Manning, never had the career that everyone had envisioned and by 2002 he was out of the league and using drugs. His life continued to spiral downward and after several arrests he landed in jail.

Upon his release from prison in 2014, the former Washington State University standout who earned a degree in Broadcast Journalism began to rebuild his life.
He worked with several NFL players-turned-broadcasters including Brady Quinn, Joel Klatt and ASA member Kirk Herbstreit, and eventually landed a job as an analyst with the Pac-12 Network. He also hosts a show on the Pac-12 Channel on Sirius XM Radio.

After auditioning for ESPN in March, Leaf was offered a job and a chance to continue his success story.

"Five years ago, sitting in a prison cell, I would have never imagined that I was going to be part of ESPN and the Disney Corporation," Leaf said. "If you would have told me that, I would have said you are absolutely crazy. And I can't believe it. I lay my head down every night with a ton of gratitude."

It's amazing that Leaf could enter the sports broadcasting business, given the many altercations he had with the media during his short-lived NFL career. 

"It is embarrassing to me when I see it or I hear a story from someone on how they had a bad interaction with me," Leaf said. "I was this cocky, arrogant individual, and now I try not to be that individual anymore."
*                                   *                                      *