Ron Shapiro

Sports Agent, Attorney, Expert Negotiator, Author & Philanthropist
by Lou Schwartz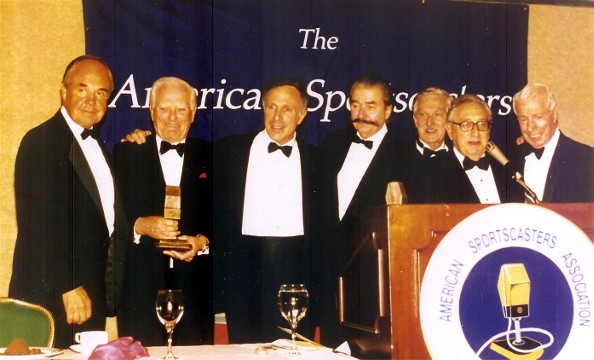 13th annual ASA Hall of Fame Dinner - April 23, 1998
Ron Shapiro, Mel Allen Service Award recipient, surrounded by friends and colleagues Dick Enberg, Jack Whitaker, LeRoy Neiman,  Lou Schwartz, Dr. Henry Kissinger and Joe DiMaggio.

May 29, 2013 - Ron Shapiro, known as an expert Negotiator, Sports Agent, Attorney, Educator, New York Times Best-Selling Author, and Civic Leader, graduated Cum Laude from Harvard Law School in 1967. In 1972 he founded what is now known as Shapiro, Sher, Guinot & Sandler, a prominent Baltimore law firm. Subsequently, in 1976 Mr. Shapiro founded Shapiro, Robinson & Associates, a sports management firm that developed a national reputation through its holistic approach to contract negotiation, sound financial management, and commitment to community involvement on the part of its clients. In 1995, he founded Shapiro Negotiations Institute, a negotiation seminar and consulting firm that has trained over 350,000 professionals in the art of negotiation, dealing with difficult personalities, and enhancing preparation and listening skills.

USA TODAY called Ron Shapiro "One of baseball's most respected agent-attorneys," and The Sporting News named him one of the "100 Most Powerful People in Sports." His list of clients includes more Hall of Famers than any other agent, including Cal Ripken, Jr., Jim Palmer, Brooks Robinson, Kirby Puckett, Eddie Murray, ASA Board member Jon Miller and 2009 AL MVP Joe Mauer.  In addition, Mr. Shapiro is the Special Advisor to the owner of the NFL's Baltimore Ravens and to the General Managers of the NBA's San Antonio Spurs and Oklahoma City Thunder.

Mr. Shapiro's book, The Power of Nice: How to Negotiate So Everyone Wins – Especially You!, was excerpted in Fortune Magazine and named one of the "Top Ten 'On the Job' Business Books of the Year" by the Library Journal. His second book, Bullies, Tyrants & Impossible People: How to Beat Them Without Joining Them, made the Wall Street Journal's Best Seller List. His third book, Dare to Prepare: How To Win Before You Begin, made the New York Times, Business Week and the Wall Street Journal's Best Seller Lists.
Mr. Shapiro's authorship, teaching techniques, personal appearances on TV and radio and his expertise as a negotiator are legendary. Committed to public and civic matters, Mr. Shapiro has chaired over 25 boards of charitable and community organizations, including PeacePlayers International, the Johns Hopkins Children's Center, the Baltimore Jewish Community Relations Council, St. Ambrose Housing Aid Center and others.
Mr. Shapiro has received numerous special honors and recognition including  the ASA's Mel Allen Service Award for distinguished public service; the Chimes Hall of Fame for contributions and community service; the Cheltenham High School Hall of Fame in recognition of outstanding personal and career achievements; the City of Baltimore Citizen Citation for assistance and special contributions to the public schools and the citizens of Baltimore. In 2006,  SmartCEO Magazine recognized Mr. Shapiro as one of the "Twenty Most Admired Leaders."
In 2013, Mr. Shapiro received the The American Red Cross Lifetime Achievement Award, named as a member of "The Champions: Pioneers and Innovators in Sports Business" by SportsBusiness Journal and SportsBusiness Daily, and will be inducted into the Baltimore Jewish Hall of Fame.
Like Father, Like Son. Ron Shapiro talking about his father, stated, "Wherever he would walk, every human being he passed was important to him. They all got the same respect. Watching how my father related to people, and the importance he placed on respect and civility, that was the source of my philosophy."
This personifies Ron Shapiro, a true giant as a negotiator, sports agent, educator, and most of all a decent human being.    
*                         *                              *