Robin Roberts Celebrates
'Major Milestone'

(courtesy of usatoday.com)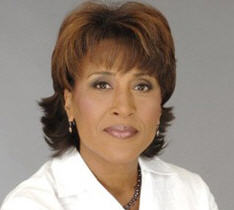 January 4, 2013 - "Good Morning America" anchor and ASA Advisory Board member Robin Roberts continues her bone marrow transplant recovery, and she's sharing some happy news.

First, she reached a "major milestone," as she tweeted: It has been 100 days since her transplant to treat her rare blood disease.

And, she got to mark it by being reunited with her beloved dog, K.J.

"Look who made it back for my 100 day celebration...KJ!!" she tweeted on Dec. 29. "We just keep staring at each other...can't believe she's finally home."

As Roberts was prepping for her Sept. 20 transplant in August, she sent K.J. off to stay with friends in Maine.

On Saturday, Roberts tweeted, "KJ already feeling right at home. So happy to have the lil girl back."

Today, Roberts tweeted that her sister, Dorothy, had come up with the family motto for the new year: "All will be serene in 2013." Added Roberts, "Amen!"