Joe Reilly, Former NYSBA President, Purchases Four Radio Stations


by Lou Schwartz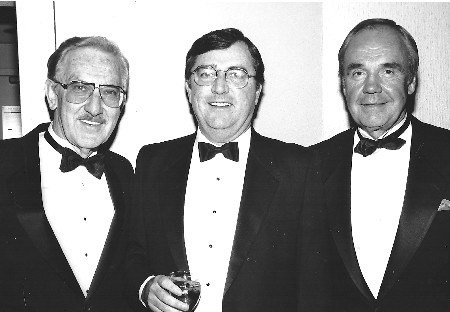 Lou Schwartz, Joe Reilly and Dick Enberg at the ASA's 8th annual Hall of Fame Dinner - 12/3/92

FOR IMMEDIATE RELEASE
August 6, 2012 - Joe Reilly, former President of the New York State Broadcasters Association (NYSBA), has purchased four radio stations in the Albany area from Anastos Media, owned by veteran New York City television anchor Ernie Anastos.

Reilly, longtime friend of ASA President Lou Schwartz and the ASA, announced the formation of the Empire Broadcasting Corp. to govern the stations. He reportedly paid $1.2 million for the four stations.

Reilly headed the NYSBA from 1979 until retiring in June of 2011. He is credited with transforming the association into a highly regarded player in the affairs of not only New York state but nationally. His dedication and commitment to the NYSBA and broadcasting has brought him nationwide acclaim.

Gordon Smith, National Association of Broadcasters President-CEO stated, "Not your ordinary Joe, New York broadcasters have been blessed by the steady and genial stewardship of Joe Reilly. He has a heart the size of the Empire State Building, and his presence in this great business will be sorely missed."

Reilly, who was a frequent guest at the annual ASA Hall of Fame dinners, often recited the time he attended a dinner honoring Joe DiMaggio, with Dr. Henry Kissinger making the presentation to DiMaggio. He went into the men's room, and while at the urinal, he looked to his right and there to his amazement was Joe DiMaggio. He looked to his left and there was Dr. Henry Kissinger. He always regretted the fact that he didn't have a camera to record this historic event.
*                           *                                *