An Interview with Amaury Pi-Gonzalez
Interview courtesy of Oakland Baseball Blog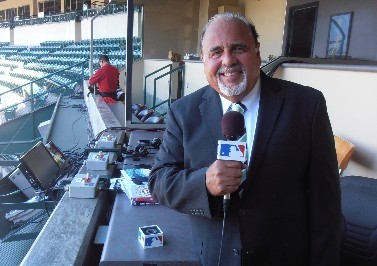 Amaury Pi-Gonzalez is a Bay Area broadcasting legend. In 2010, Pi-Gonzalez was inducted into the Bay Area Radio Hall of Fame. Pi-Gonzalez, a Fremont resident, is a 32-year veteran of Major League Baseball broadcasting. He started broadcasting Oakland A's games in 1977, when team owner Charlie Finley and A's executive Carl Finley hired him.
Last year, Pi-Gonzalez served as the lead announcer for the Spanish Beisbol Network's Oakland A's Spanish-language broadcasts. He is currently broadcasting for the Los Angeles Angels of Anaheim on Fox Sports Net West. We recently caught up with Pi-Gonzalez to find out why, and to get his thoughts on other parts of our favorite franchise, the Oakland A's.
Baseball Oakland: Congratulations on being inducted in the Bay Area Broadcasting Hall of Fame. What went through your mind when you first heard about your induction?
Amaury Pi-Gonzalez: When I first got the call from the Bay Area Radio Hall of Fame, that I was going to be inducted, I could not believe it. Most of my career I have broadcasted in the Spanish language and the BARHOF is a very prestigious Hall of Fame. To join guys like Hank Greenwald, Jon Miller, Joe Starkey and all those Bay Area legends is truly an honor for me. It is a humbling experience, especially to be recognized by my peers. A good buddy called me the next day (a sports guy) to tell me, "Do you realize you're the only A's broadcaster in the Bay Area Radio Hall of Fame?" Well, not that I want to toot my own horn, but jut for the record, I am also in the Cuban Sports Hall of Fame and the Hispanic Heritage Baseball Museum Hall of Fame. I have traveled a lot, but the Bay Area has been my home since 1969, right after I left the U.S. Army as a Vietnam veteran.
Baseball Oakland: How long have you been a broadcaster?
Amaury Pi-Gonzalez: Technically, I have been a broadcaster/reporter since 1974 when I was doing regular news -- I interviewed people like UFW leader Cesar Chavez -- and did just about everything you can do at a radio station: traffic, weather, working as a disc jockey at the old KOFY-1050 AM. Now it is The Ticket, I believe, and it is all sports. But doing baseball and other sports play-by-play, it all started in 1977. But I always had an affinity for sports.
Baseball Oakland: When did you first start working with the A's?
Amaury Pi-Gonzalez: It was in 1977 when I first got started for the A's. I remember I sent a letter to then-owner, Charlie O. Finley, and he told me I could broadcast in "Mexican." It was interesting and funny at the same time, since Mexican is not a language. It's a nationality. It is like if you tell somebody to do a broadcast in Irish, instead of English. He won three World Series with the Athletics in 72-73-74, and although I covered his teams prior to 1977, it was in 1977 when I actually started doing play-by-play in Spanish on the radio. I remember telling Carl Finley, who used to run what they call marketing nowadays, "Please thank Charlie, but please tell him it is in Spanish, not in Mexican, since this is a nationality not a language."
Baseball Oakland: It must have been hard to take an unexpected pay cut during the season last year. Tell us what happened last year with the A's Spanish-language broadcasts.
Amaury Pi-Gonzalez: Yes, it was hard to take an unexpected pay cut in my salary. I also lost my health insurance and such. SBN (Spanish Beisbol Network) had the rights to broadcast all A's games in Spanish. We did all games, home and away, in 2009. Away games were done from our small broadcast booth at the Oakland Coliseum, as we would sit in front of a television monitor (maybe 17 inches) and call the games. Our engineer would have a line set up like in Baltimore, for example, so sounded like we were in Baltimore when the Athletics were playing there. But we did it from the Oakland Coliseum. In 2010, the main guy that runs SBN came to us at the middle of the season and told us that they were losing money and had to "pull the plug." Since mid-July, we only did the home games. They told us that the A's could not help at all. It was very disappointing. I have never had this happen to me in the middle of a season. It is an insult to the fans, to the Hispanic community. As a matter of fact, the Wall Street Journal found out and sent a reporter to interview yours truly. His name was Joel Millman, and he wrote a story about it.
Baseball Oakland: Could the A's owners or front office have done more to help pay your salary, or sell the ads to keep the broadcasts going?
Amaury Pi-Gonzalez: Yes, I think the A's front office could have stepped up and done more in this case. We lost our two radio stations, KDIA-1640 AM and KDYA-1190 AM, and then were only on the Internet during the second half of the season, on www.losatleticos.com. I am still telling the A's they can "save" this upcoming 2011 season if they keep us over on the Internet on that same site, and promote it and do stuff with over 1.8 million Hispanics that live in the Bay Area. But as of today, I have heard nothing from the A's, who are super-occupied still looking for an English radio station, as of this interview. Of course, the A's front office could have done much to keep our broadcast going, to pay my salary and my partner's. Look at the beginning of last season, when the A's signed Ben Sheets for $10.5 million dollars ... look what happened with him. It would have been a fraction of that type of money to keep us on the air, and to serve their Hispanic community.
Baseball Oakland: Ken Pries, the A's VP for broadcasting, said that "building a network of Spanish radio outlets for baseball has always been a challenge." Do you agree with him? And why?
Amaury Pi-Gonzalez: Ken Pries is correct, to help build a network in Spanish has always been a challenge. But, it is a challenge to keep a network in English also, and they are still working on that. But I feel when it comes to Spanish (telecasts), we are "second-class citizens." I have done a lot of work for the Athletics in the community, pro bono, in good faith, because I have always believed in the Hispanic market.
Baseball Oakland: It seems like a team in Northern California, where the Latino community is huge and growing, would be smart to go the extra yard to keep Spanish-language broadcasts for their team.
Amaury Pi-Gonzalez: Of course. A team in the 5th-largest radio and television/media market in the country (some say the 4th-largest) should try to keep their Spanish broadcast. Even the LA Clippers in the NBA are doing Spanish telecasts and radio broadcasts these days. They have been a cellar-dwelling team for over 20 years. The Clippers, with no fans!
Baseball Oakland: How much do you think the A's mean to the Latin community in Oakland?
Amaury Pi-Gonzalez: If the A's do not have Spanish radio in the 2011 season, they will be the only Major League team in California without Spanish-language coverage. All other teams in California have Spanish radio, even some minor league teams have it. Do you think that looks good in the eyes of the community for the A's? The A's want to increase attendance, they want to move out of Oakland, they want to do many things, but they are not focusing on the people right now, right here in Oakland, Alameda County and the Bay Area.
Baseball Oakland: Why do you think Spanish-language broadcasting is important to not just the A's but to the game of baseball?
Amaury Pi-Gonzalez: Broadcasting in Spanish is very important, especially in California, because we are a bilingual state. Like it or not, those are the facts. Demographics today show that. This is not Omaha, Nebraska. We are a large Hispanic community; as diverse as any other group, from Central America, South America and the Caribbean. We're growing and contributing to this society. Also, Hispanics are almost 30% of all Major League players in today's game. The game is more Hispanic than ever before.
Baseball Oakland: Is it true the A's are not interested in broadcasting games in Spanish anymore?
Amaury Pi-Gonzalez: My experience regarding this is that the A's would like to keep our broadcast in Spanish, yes,, as long as somebody else puts it on the radio, buys air time, pays the announcers and all the production costs, and also sells the advertising. They will never say, "NO we do not want Spanish," as long as they do not have to pay anything.
Baseball Oakland: Why do you think the A's would be willing to stop doing the Spanish-language broadcasts?
0Amaury Pi-Gonzalez: To do all games over the Internet this upcoming season will cost just a little over $100,000. That includes everything. That is much less than 1/3 of what a Major League rookie makes, and that would be to cover the Hispanic market.
Baseball Oakland: Last autumn, Lew Wolff and John Fisher gave at least $25,000 to the campaign coffers of Oakland mayoral candidate Don Perata. Was it disappointing to you that Wolff and Fisher didn't spend roughly that same amount so that you and your announcing colleague wouldn't have to take a pay cut for doing A's game broadcasts last year?
Amaury Pi-Gonzalez: When I see owners giving money to the campaign coffers of Oakland mayor candidates, I cannot explain why they will not spend money on our broadcast. That makes little sense to me. I understand business, and to make money, you still have to invest. Even Donald Trump will tell you this. You have to cultivate the Hispanic market. You cannot expect from day to night to draw thousands of Hispanics if you do not reach Hispanics in all media, not only radio. The A's also have not signed a Latino superstar in years. I do not know why. Miguel Tejada was the last one. It would help in a city as diverse as Oakland to have some Latino stars on the field. The team across the Bay, who just won the World Series, had like 12 Latino players on the roster, while for the A's these days, to find an exciting Latino superstar is like finding water in the Sahara. I was hoping they'd get Vladimir Guerrero, an exciting and still great designated hitter, for maybe $4 million.
Baseball Oakland: What is your opinion of the A's threats to move out of Oakland?
Amaury Pi-Gonzalez: The Giants are parading their 2010 World Series trophy all over the place. The Athletics have four World Series trophies inside their executive offices. The Oakland Athletics is one storied franchise that dates back to the start of the last century, one of the most traditional and historical franchises. And in all of California, only the Dodgers have won more trophies than the A's when it comes to pennants and World Series. We have the history and the track record here in Oakland, why not stay here? The A's have the history, the players, but they do little to bring back those players in front-office roles, like other teams with lesser history do.
Baseball Oakland: Will we hear you doing A's games on the radio next year?
Amaury Pi-Gonzalez: As of today, I doubt I will be doing the games on the radio for 2011.
Baseball Oakland: Have you heard of the Victory Court ballpark site for a waterfront Oakland ballpark? If so, what do you think of the Victory Court site?
Amaury Pi-Gonzalez: The Victory Court ballpark in Oakland for the A's is a good plan. I think the powers-that-be on the team should take it seriously. However, I am afraid they are just focusing on San Jose. That's my humble opinion, for whatever it is worth. I believe if the current ownership cannot move to San Jose, they will put the team up for sale. That is just my opinion. There should have been a resolution by now from the Commissioner's office on the proposed move to San Jose. The reason the A's do not have an answer from the Commissioner is very simple, MLB is afraid of lawsuits, and they could see themselves hit with a lot of legal problems by the current owners of the San Francisco Giants, who are not kidding when they say San Jose is their territory. The irony here is that it was the Athletics who gave the Giants permission to have San Jose as their territory. But that is the way the ball bounces.
Baseball Oakland: You got to know the late Bill King pretty well over the years while doing A's games. What's your favorite Bill King story and why was he so great?
Amaury Pi-Gonzalez: Bill King was a good friend. I remember back in the 1980s, he once called me to his booth to ask me about a young kid by the name of Jose Canseco, when Jose was still playing in Huntsville. I remember I told Bill, "Just because I am also born in Cuba like Jose, you have called me here?" Bill started laughing like a little kid, but then we got down to business and he was very precise in asking me a lot of questions about Cuban baseball and such. Bill was a treasure. My good friend, Jaime Jarrin, the Spanish radio voice for the L.A. Dodgers for 53 years, was inducted into the Hall of Fame because the L.A. Dodgers developed a tremendous publicity campaign for him in radio, television and newspapers. I believe the Athletics could have done the same for Bill King. I believe Bill King was the best sportscaster the Bay Area has ever had.