Holy Cow! Rizzuto is Still Scooting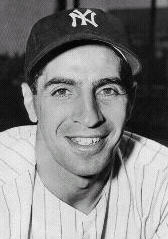 The following article was written by Kevin Kernan and appeared in the New York Post on February 3, 2006.
Phil Rizzuto sat at a corner table yesterday morning at Mickey Mantle's Restaurant and, for a while, it was paradise at the dashboard light again for anyone who had ever watched him play of listen to him broadcast a Yankee game.
Rizzuto is 88, the oldest living member of the Baseball Hall of Fame, and though he doesn't scoot like he used to, he is quick to smile and laugh. He says he's shrunk an inch and is now 5'5". He still loves Cora and the kids with all his heart, and he remains a little bit of a prankster.
As a female photographer snaps his picture from across the table, the flash hits him in the eyes. He politely asks her to hold the camera higher. The woman responds by raising her arms and because she is wearing one of those stylish cut a the waist tops, there is a flash of skin as she reaches to the sky.
Rizzuto smiles and so does the photographer. He's no huckleberry.
"It was a little scary coming in, can you believe the traffic," the Scooter says, as if on-air. "It took us more than an hour to get here. Right now I'm feeling good, but coming in, I was ready to jump out the window."
He was in town to promote the Phil Rizzuto Collection, his personal memorabilia that will be auctioned off this summer by Geppi's Memorabilia Road Show (www.gmrs.com). Included in the stunning 1,000 lot collection are such keepsakes as his 1950 uniform and cap with a piece of gum still stuck on top, World Series rings, a Yogi Berra mitt, a 1956 Mickey Mantle Christmas card to Phil and the platinum record for the Meat Loaf classic "Paradise By the Dashboard Light."
"I remember doing that recording," Rizzuto says. "I was with Meat Loaf and his agent and I asked where's the music, and they said, 'Don't worry about it, we're just trying something new." Here's the play at the plate, holy cow, I think he's gonna make it!
Rizzuto made it, all the way to the Hall of Fame in 1994. He will keep some mementos for his family, like his 1950 MVP trophy, but it's time to move on-physically as well.
Phil and Cora, who have been married for 62 years, will be leaving their New Jersey home, the same home they raised their four children in and move to upstate New York to live with their daughter Penny and her family
Rizzuto remains the same city kid, who came out of Brooklyn to sign with the Yankees.
"He's still afraid of bugs and mice," Penny says. "When he comes to our house, he still puts a towel over his shoes so mice can't get in."
Hopefully there's a good Italian bakery nearby because as Rizzuto often said, "A day without a cannoli is like a day without sunshine."
There was sunshine all over the place as the once great Yankee shortstop talked fondly of today's Yankee shortstop, Derek Jeter. "He's my favorite shortstop of all time," Rizzuto says.
In Curt Smith's excellent book, Voices of Summer, Rizzuto is listed as the 27th greatest announcer in baseball history. IN New York, he was No. 1 to Yankee fans for 40 years.
Even yesterday, Phil asked, "Where's (Bill) White, that huckleberry?" When he offered his trademark "Holy Cow" at the podium, memories came flooding back like the call of Roger Maris' 61st home run or summer thunderstorms that would force Rizzuto to leave Yankee Stadium even earlier than the seventh inning.
Rizzuto told the story how he picked up the nickname "Scooter." "Billy Hitchcock, who later became a manager, told me, you're not running, you're scooting," he says.
His granddaughter Jennifer chips in about his travels down south, "Did you tell him about the time on the train when they gave you the grits and you didn't know what to do with them so you out them in your pocket?"
Rizzuto laughs. "That was a riot," says the man who was always able to laugh at himself and managed to never get thrown out of a game, "I loved the game," he says. "I never got mad at anybody, I'm too small anyway."
Forever, he will be the Yankees' little big man.