Longtime ESPN Reporter
Pedro Gomez Dies at 58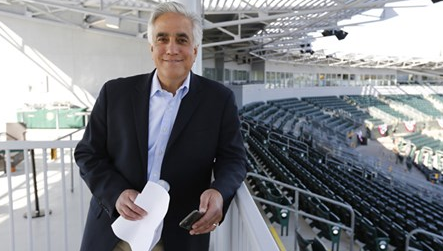 February 8, 2021
I just thought I'd share with you the following story written by ASA Advisory Board Member Amaury Pi-Gonzalez on the untimely passing of longtime ESPN reporter Pedro Gomez, who died yesterday at his home in Phoenix, AZ. Gomez, known for his chronicling of Barry Bonds' chase to break Henry  Aaron's home run record, was 58.
~ Lou Schwartz, President
ESPN's Pedro Gómez Dead at 58
"That's Amaury News and Commentary"
By Amaury Pi-González
On Sunday, while watching the Super Bowl, I learned that ESPN sports reporter Pedro Gómez had suddenly passed away at the age of 58 at his Arizona home. Since Pedro Gómez is a very common name in Spanish, I thought that maybe it was not true, that it was somebody else, some other Pedro Gómez, but too soon I found out -unfortunately- it was the Pedro Gómez I knew.
We used to run into each other at Spring Training in Arizona when he worked for the San José Mercury News and other newspapers as well in other cities and here in the Bay Area. Sometimes Pedro would be at a Golden State Warriors game and would join me to do commentary in Spanish over the radio during half time from the Oakland Arena.
I remember one time he took his little boy Rio to a Warrior's game with his wife, he was holding Rio his son, a toddler, and he adored his kid who is now a man and a baseball player in the Boston Red Sox organization.
The Red Sox issued a statement on social media, saying … "Our hearts go out to the Gómez family, including Pedro Gomez's son, Rio, a pitcher in our minor league system." Pedro's parents were Cuban exiles who arrived to the US in the early 1960's, about the same I did, when there was a huge Cuban wave of exiles into the US.
We often talked about Cuba, and the time he went there to do a report for ESPN during a baseball exhibition between the Cuban team and the Tampa Bay Rays, we had a very nice conversation regarding his trip to the island and when he reported that his father pledged never to go back to Cuba as long as the Castro regime was in power, which is the sentiment of most Cubans who left the country.
I remember when he asked me If I have been back and if I planned to, which I responded, no, I am just like your parents in that regard, I am not going back as long as the country doesn't have any freedom and the system doesn't change.
Pedro was a people's person affable and always seems to be in a good mood, a true professional always ready to cover any sports story that came his way and he did very well for many years. An excellent journalist.
I joked with him every time I saw him, because of his likeness to a young Camilo Pascual, the ex Cuban pitcher of the Washington Senators and later Minnesota Twins, I would ask him if he was sure he was not related to Pascual and he would laugh and say no, I am not.
During one Spring Training game at the Dodgers training camp in Arizona and inside the Press Box, Alanna Rizzo the Dodgers sports television on-the-field reporter, whose mother was also a Cuban exile, Pedro and yours truly were together and I joked saying that three Cubans is the most a press box could tolerate because more than three and there could be a revolution.
Pedro laughs and responded to me: "yo creo que si" trans- "I think so". I like to remember him this way, talking baseball with me and about the things we had in common. I am very saddened because we have lost a very good man, and way too young. My sincere condolences to his family.
May he Rest in Peace.
Stay well and stay tuned.
Amaury Pi Gonzalez is the Spanish radio voice for the Oakland A's at 1010 KIQI LeGrande San Francisco and does News and Commentary at http://www.sportsradioservice.com
   *                               *                               *