Paul Carey,
Longtime Voice of the Detroit Tigers, Dies

by Patrick Turturro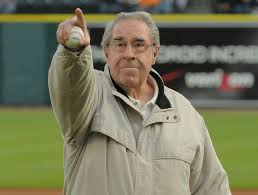 FOR IMMEDIATE RELEASE
April 15, 2016 - Paul Carey, longtime radio voice of the Detroit Tigers, died due to complications from chronic obstructive pulmonary disease and heart disease on April 12 at his home in Rochester, Mich. He was 88.

A Michigan native, Carey started his career at WCEN Radio in 1949 and was part of the first broadcast of a Central Michigan University football game. After serving in the Army during the Korean War and a stint at WKNX, Carey began his 36-year association with Detroit's WJR Radio in 1956.  He served in several capacities at WJR, including staff announcer and assistant sports director before taking his seat next to ASA Hall of Famer Ernie Harwell in 1973. The two became extremely popular with Tigers fans, as the authoritative and powerful voice of Carey complimented the Southern laid back style of Harwell. 

During his 19 years as a Tigers announcer, Carey spent 16 of those years also serving as the engineer of the broadcasts. He was also the play-by-play announcer for the Detroit Pistons and worked the pre- and post-game shows for the Detroit Lions.

An honorary lifetime member of the Detroit Sports Broadcasters Association (DSBA) and a former president of the organization, Carey was awarded the DSBA's Ernie Harwell Lifetime Achievement Award in 2012.

DSBA President Trevor Thompson has fond memories of Carey and what he meant to the Motor City.

"I didn't know Paul Carey as well as many of you but I do know that - in these parts - he was a legend, not only as a broadcaster, but more importantly as a person," Thompson said. "His passing is mourned by all he touched, thanks to his talent, profile and longevity; he did indeed touch countless sports souls. Our thoughts and prayers are with his beloved wife Nancy, his family and the many close friends he leaves behind. And let us be thankful for the treasure of his incredible legacy."
*                     *                           *