Pat Summerall, Sportscasting Legend and ASA Hall of Famer, Dies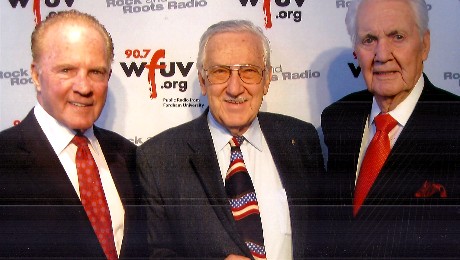 Frank Gifford, ASA President Lou Schwartz and Pat Summerall

April 16, 2013 - Pat Summerall, legendary NFL announcer who called a record 16 Super Bowls, died at Zale Lipshy Hospital where he was recovering from surgery for a broken hip. He was 82.

Summerall spent ten years as a professional football player in the National Football League, primarily as a placekicker. After retiring from football, he was hired by CBS Sports in 1962 to work as a color commentator on the network's NFL coverage. CBS initially paired Summerall with Chris Schenkel on Giants games. In 1968, he ascended to the network's lead national crew, pairing with Jack Buck and then Ray Scott.

In addition to football at CBS, Summerall was signature voice for its golf coverage, including the Masters since 1968 and for the U.S. Open Tennis Championships since 1971.

In 1981, Summerall was teamed with former Oakland Raiders coach John Madden, a pairing that would last for 22 seasons on two networks and become one of the most well-known partnerships in TV sportscasting history.
In 1994, the Fox network surprised NFL fans by outbidding CBS for the NFC broadcast package. One of the network's first moves was to hire Summerall and Madden as its lead announcing team. The long-time partnership ended after Super Bowl XXXVI in early 2002, as Summerall had announced he would be retiring from announcing and Madden's contract had expired.

Summerall was inducted into the ASA Hall of Fame in 1999. At the time it was announced, ASA Chairman Dick Enberg stated, "The ASA is delighted to honor Pat Summerall, a man whose character and integrity as a sports announcer for more than 40 years has been an inspiration for all aspiring sportscasters. His play-by-play coverage along with John Madden epitomizes the highest level of talent in our profession."
*                           *                                 *