Keith Olbermann Returns to Football Duty with NBC
By Michael McCarthy, USA TODAY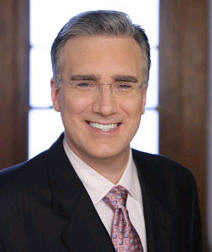 NEW YORK — NBC is bringing in MSNBC anchor Keith Olbermann to co-host the second season of its prime time Sunday studio show, Football Night in America.
Dick Ebersol, chairman of NBC Universal Sports & Olympics said Olbermann will call highlights and debate NFL news with returning co-hosts Bob Costas and Cris Collinsworth, analysts Jerome Bettis and Tiki Barber and reporter Peter King of Sports Illustrated.
NBC recently dropped one of last season's analysts, Sterling Sharpe, in favor of Barber, the former New York Giants running back.
The assignment marks Olbermann's first network sports assignment in six years. The pre-game Football Night in America is followed by Sunday Night Football game telecasts with John Madden, Al Michaels and Andrea Kramer.
The assignment does not impact Olbermann's prime time newscast, where the former ESPN, Fox and NBC sportscaster has a emerged as an opinionated, politically liberal counterpoint to conservative star Bill O'Reilly of Fox News.
Ebersol expects the former ESPN SportsCenter anchor to ruffle feathers. "I'm sure there'll be some phone calls from the league," said Ebersol.
But Olbermann said he'll limit his opinions to football, not the Bush administration or politics. "I'm not going in there with an agenda. I've been a sportscaster longer than I've been a commentator," he said.
Olbermann first rose to prominence with partner Dan Patrick on SportsCenter from 1992-1997. Olbermann still appears for regular guest spots on ESPN Radio's The Dan Patrick Show. Olbermann joined NBC in 1997, working World Series and Super Bowl coverage.