Nick Buoniconti
NFL Hall of Famer & Longtime
Co-Host of "Inside the NFL" Remembered

12/15/40 - 7/30/19



by Lou Schwartz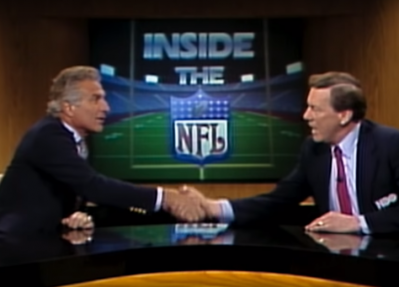 Nick Buoniconti (l) and Len Dawson on the set of "Inside the NFL"

FOR IMMEDIATE RELEASE
August 2, 2019 - Nick Buoniconti, NFL Hall of Famer and longtime co-host of "Inside the NFL," died on July 30 after a bout with pneumonia. He was 78. Buoniconti had been dealing with neurological issues in recent years and his health was in decline.

Despite being undersized at 5' 11", Buoniconti was an All-American tackle at Notre Dame who was chosen by the Boston Patriots in the 13th round of the 1962 AFL draft. He switched to linebacker in the pros and was an AFL All-Star five of his seven years in Boston before being traded to the Miami Dolphins in 1969.

Buoniconti continued to flourish in Miami, where he was an integral part of the "No Name Defense" that led the Dolphins to back to back Super Bowl victories in 1972 and '73.

After retiring in 1976, Buoniconti worked as a sports agent representing many top name athletes including Bucky Dent and Andre Dawson.  He was also a practicing attorney, having earned his law degree while with the Patriots, and served as the President of the U.S. Tobacco Company.

Buoniconti  joined the sportscasting ranks in 1980 when he replaced Merle Harmon as the co-host of HBO's "Inside the NFL" alongside fellow NFL Hall of Famer and Lifetime ASA member Len Dawson. Each week, Buoniconti and Dawson would recap the previous Sunday's games with highlights supplied by NFL Films. They would also talk about the upcoming week's games and offer their predictions.
Buoniconti's toughness on the field was evident in front of the camera as his commentary was raw and to the point, which complimented Dawson's laid back approach The duo enjoyed a 21-year run until both retired from the show in 2001, the same year Buoniconti was  inducted into the Pro Football Hall of Fame.

Among his many endeavors, Buoniconti was the co-founder of the Miami Project to Cure Paralysis. He devoted much of his time to that cause after his son, Marc, was paralyzed by a collision in a 1985 college football game and he worked tirelessly to help raise hundreds of millions of dollars for research to find a cure.

Buoniconti is survived by his second wife, Lynn, and three children from a previous marriage, Marc, Nick and Gina.
*                        *                                 *