NFL May Head Overseas
With 17th Game
By SKIP WOOD, USA Today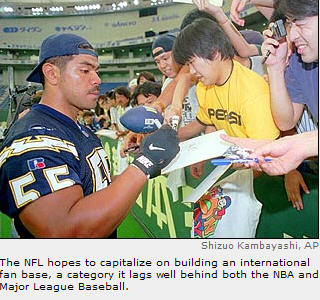 American expatriates who also happen to be NFL fans could be in store for an unexpected treat. The pro football league is in the early stages of planning a setup that would add a 17th game to each team's regular-season schedule - with a caveat: The games would be played outside the USA.
This scenario appears to be not a matter of if but only a matter of when.
So how soon?
"Most likely not next year," NFL director of corporate communications Brian McCarthy said Thursday, "but likely to be shortly thereafter."
That would mean a reduction of the preseason schedule from four games to three. The NFL is studying how the extra game would be applied to the existing schedule format and whether the entire slate would be moved up or moved back a week.
Possible venues for a series of games would appear to be London (where the New York Giants and the Miami Dolphins will meet Oct. 28 at Wembley Stadium), Spain and Germany - which fields several teams for NFL Europa.
San Diego Chargers general manager A.J. Smith said Thursday that he had heard scant details about the idea but wondered about the logistics.
"Would this mean, say, the Raiders and the Chargers go to Berlin and maybe East Coast teams go somewhere else?" he said. "It'll be interesting to see all the particulars of it."
Since every team would be required to make the trip, Smith said he didn't expect a competitive disadvantage.
"It's the schedule, and you just play it, whatever it says, wherever it tells you to go," he said. "There's always going to be (travel) hardships with any schedule, but it's a waste of time to waste a lot of time and energy complaining about it."
Smith did see the potential for some teams griping but said the plan is intriguing.
"It's unique," he said. "It's different. You won't see me holding a placard in front of the (NFL offices) in protest."
Contributing: Scott Zucker