Jim Nantz Joins Joe Buck
on Fox U.S Open Telecast

by Lou Schwartz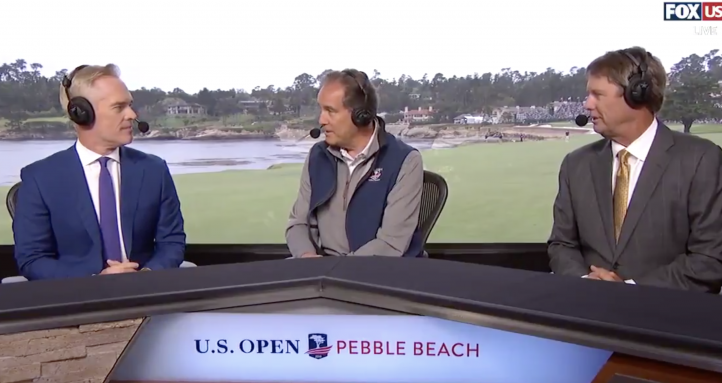 Joe Buck, Jim Nantz and Paul Azinger broadcasting the U.S. Open on Fox

FOR IMMEDIATE RELEASE
June 18, 2019 - Top announcers from different networks rarely get a chance to broadcast together. But that's exactly what happened at Pebble Beach on Saturday as veteran CBS golf announcer and ASA Board Member Jim Nantz stopped by the Fox broadcast booth to chat with Joe Buck and Paul Azinger during the third round of  the U.S. Open.

Nantz, who lives nearby, received an invite from Buck on Thursday. The Fox announcer was certainly aware of Nantz's  great love for the course and its 100-year history. Not to mention that in his 30-plus years covering golf, Nantz has never called the U.S. Open.
Buck, who is in his sixth year calling golf on Fox, offered praise for his fellow ASA member, who has worked the Masters for CBS since 1986.

"And to have you on our air, let me just say it looking into that camera there, he is the best to ever call golf on television, so thanks for joining us," Buck said.

Nantz's affinity with Pebble Beach run deep. He was married there in 2012 and has a replica of the 7th hole in his backyard. He also collects art from Pebble Beach developer Samuel Morse and named his daughter "Finley" after Morse's  middle name.


*                         *                             *