Nancy Reagan, Former First Lady
and Recipient of the
ASA's Humanitarian Award, Dies



by Lou Schwartz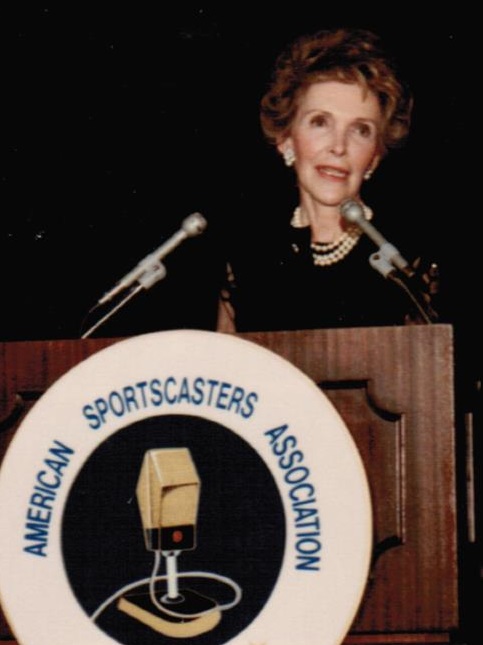 FOR IMMEDIATE RELEASE
March 7, 2016 - Nancy Reagan, former First Lady and recipient of the American Sportscasters Association's Humanitarian Award, died on March 6 at her Los Angeles home. She was 94.

Known as one of the most influential First Ladies in our nation's history, Mrs. Reagan showed unconditional support for her husband, President Ronald Reagan, throughout his eight years in the White House, an assassination attempt and his battle with Alzheimer's disease which he succumbed to in 2004.

Reagan, born Nancy Davis in Queens, New York, was a prominent actress in the 1940s and '50s who married then-Hollywood leading man Ronald Reagan in 1952. She became the First Lady of California when her husband was elected Governor of the state in 1967, a position she held until 1975.
 
Upon entering the White House in 1981, Mrs. Reagan became one of the most visible figures in the national fight against substance abuse. Her "Just Say No" campaign was a monumental undertaking that exposed the ongoing drug problem amongst children.

In 1986, Mrs. Reagan attended the 3rd annual ASA Hall of Fame Dinner at which she accepted the ASA's Humanitarian Award for her anti-drug campaign. She also presented awards to the winners of the ASA's "No Drugs No Way" poster and essay contests.

During her acceptance speech, she urged the sportscasters to join her in this "War on Drugs."

"Each of us must make a commitment against drug abuse," Reagan said. "This nation's sportscasters have a great influence because you're so visible, so respected by our young people. Tonight I'm asking you, please do what you can, with what you have, where you are. Thank you so much for inviting me and thank you so much for this award."

Under Reagan's tutelage, the ASA continued to expand its drug program with a grant from the U.S. Department of Education. Guided by ASA President Lou Schwartz, the program utilized sports celebrities and broadcasters who visited public schools throughout New York City  urging young people to remain drug free. Several anti-drug public service announcements were also produced by the ASA featuring Marv Albert at Madison Square Garden and Bob Costas in Yankee Stadium.
Nancy Reagan reviews the ASA's "No Drugs No Way" literature with ASA President Lou Schwartz at the 3rd annual Hall of Fame Dinner - 12/18/86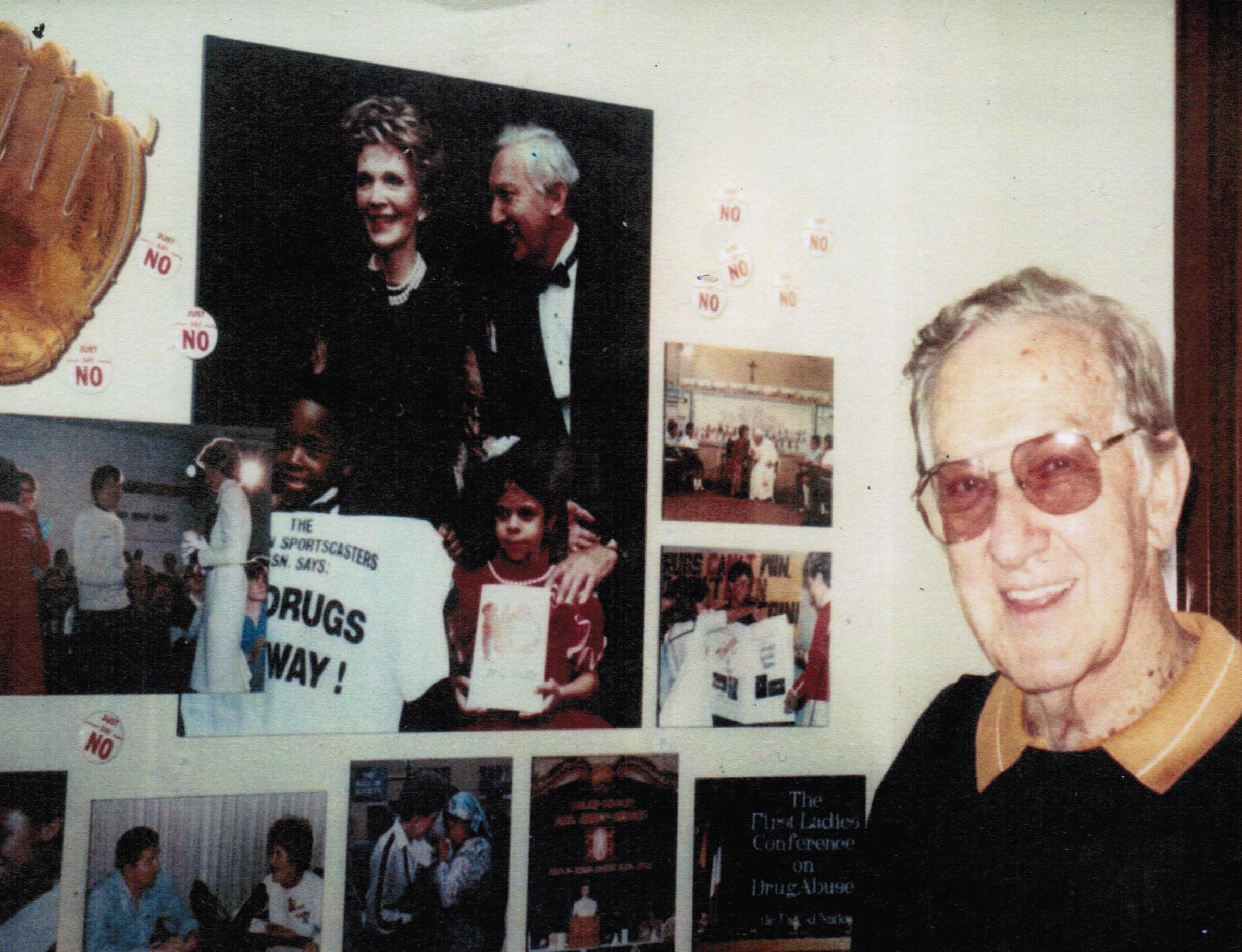 ASA President Lou Schwartz visiting The Ronald Reagan Presidential Library in Simi Valley, Calif., where a picture of himself, First Lady Nancy Reagan and anti-drug contest winners at the 3rd annual Hall of Fame Dinner hangs on the wall.
*                          *                                   *