Michael J. Roarty

"One of a Kind"
August 24, 1928 - March 16, 2013


by Lou Schwartz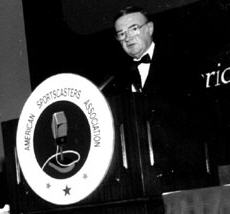 Michael J. Roarty addresses the over 500 attendees at the ASA's 4th annual Hall of Fame Dinner - December 3, 1987

April 19, 2013 - Michael J. Roarty, friend of the American Sportscasters Association and a dear personal friend of mine, passed away on March 16th, 2013, at the age of 84 after suffering a heart attack on his way to the hospital.

Roarty served as General Chairman for many of the ASA's Hall of Fame dinners, and was instrumental in the success and growth of the ASA. He was honored by the ASA as the  "Sports Executive of the Decade" at the 10th annual Hall of Fame dinner on November 30, 1994.

Roarty, widely lauded as the marketing whiz who helped steer Anheuser-Busch to a dominant position in the beer industry, was executive vice president of marketing of the beer unit from 1977 to 1994, a period that saw the company''s beer sales double to 80.7 million barrels from 35 million, and market share go to 42.1 percent from 21 percent. He oversaw campaigns such as Budweiser's "This Bud's for You," Busch Beer's "Head for the Mountains," Michelob's "Weekends Were Made for Michelob," and Bud Light's "Gimme a Light."

Our deepest sympathies go to his lovely devoted wife, and lifetime companion of 53 years, Lee,  who just informed me of his death, and to his son, daughter and four grandchildren.

Words cannot adequately describe what a fine gentleman he was with a warm personality, great intellect and a kindness for anyone he could help. He was unique and one of a kind.

Rest in peace dear friend. We shall never forget you.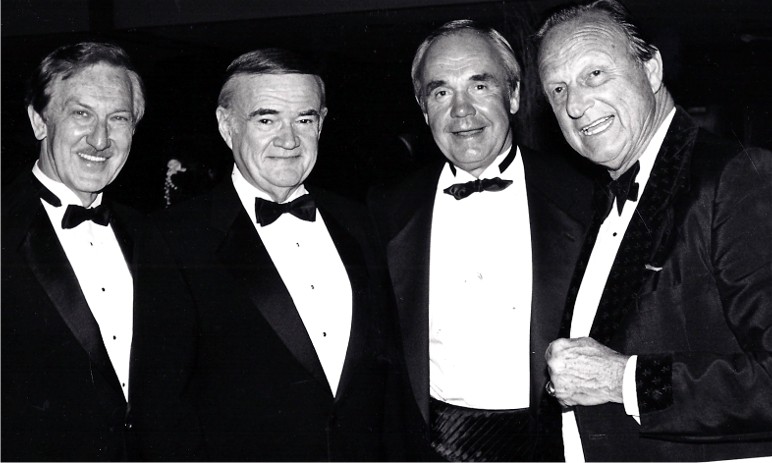 Lou Schwartz, Mike Roarty, Dick Enberg and Stan Musial at the ASA's 6th annual Hall of Fame Dinner - November 29, 1990