Mike Breen
NY Knicks & ESPN Announcer
Named 2020 Curt Gowdy
Media Award Winner

by Lou Schwartz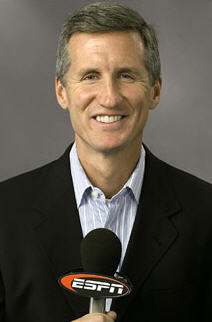 Mike Breen
FOR IMMEDIATE RELEASE
February 18, 2020 - Mike Breen, longtime New York Knicks and ESPN announcer, has been selected as this year's recipient of the Naismith Basketball Hall of Fame's Curt Gowdy Media Award. The announcement came during the NBA All-Star weekend. 

Breen, who has been calling Knicks games on the MSG Network for over 20 years, was overwhelmed upon receiving the news.

"I almost started crying,'' Breen said. "It's hard to fathom even after getting the word. As a 5-year-old, I fell in love with basketball, played it until I was 45. To get this job, it was hitting the lottery. And to get an award like this for doing job you love so much, it's hard to find the proper words to say how I feel.''

A graduate of Fordham University, Breen began his career in 1985 as the play-by-play voice for Marist College basketball. He later joined  WFAN Radio as the sports anchor for the "Imus in the Morning" show.

In 1992, Breen secured his dream job as the radio play-by-play announcer for the Knicks on WFAN. It got even better for the Yonkers, NY, native when he moved to the MSG Network in 1997 to work alongside his childhood idol, Walt "Clyde" Frazier.

"I go from Walt Frazier being my basketball hero to my partner and lifelong friend,'' Breen said. "I can't make this up.''

Breen is also known nationally as the play-by-play voice of the NBA on ABC & ESPN alongside former Knicks coach Jeff Van Gundy and  NBA great Mark Jackson. The popular trio has called 11 NBA Finals dating back to 2007.

The Hall of Fame will announce its Class of 2020 on April 4 and the enshrinement ceremonies will take place on August 28-30 in Springfield, Mass. It is shaping up to be a monumental event as finalists Tim Duncan, Kevin Garnett and the late Kobe Bryant are shoe ins to be selected for induction.
*                          *                                *