Former NBC Announcer
Merle Harmon Dies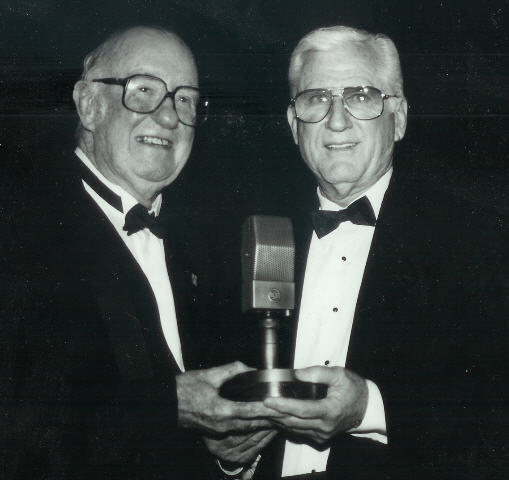 Merle Harmon (r.) accepts the 1993 ASA Graham McNamee Award from ASA Hall of Famer Jack Brickhouse

(by Dan O'Donnell & Jay Sorgi)
"Merle Harmon was the best," remembered Major League Baseball commissioner and former Milwaukee Brewers owner Bud Selig on 620WTMJ's "Wisconsin's Morning News as he talked about the man he hired as the first voice of the Brewers.
Harmon, a legendary Brewers, Braves, and NBC Sports broadcaster has died. He was 82 years old.
Harmon died Wednesday at Arlington Memorial Hospital in Texas.
The broadcaster's son, Keith Harmon, who works with Newsradio 620 WTMJ and the Brewers radio network, said his father had been hospitalized for a couple of weeks and died from complications stemming from pneumonia.
Harmon, a Salem, Ill. native who started his broadcasting career with the minor league Topeka Owls, was perhaps best known in Milwaukee as the last play-by-play voice of the Milwaukee Braves (throught 1965) and the first voice of the Milwaukee Brewers.
When Major League Baseball moved the Seattle Pilots to Milwaukee shortly before the 1970 season, Harmon was hired to do the play-by-play and was joined a year later by a young Bob Uecker.
Merle helped me from the start," Uecker said. "I'd never done baseball when I joined him in the booth, not unless you count my play-by-play into beer cups in the bullpen."
"His dedication to family and broadcasting were second to none, and I will always be grateful for the latitude and direction he gave to me as I was entering the profession. ... This is a very sad day for all of us."
Keith Harmon, who works in sales and marketing for the Brewers network, said his father was able to "capture excitement" in his broadcasts.
"He really helped paint a picture of exactly what was going on in the field," Keith Harmon said.
Harmon teamed with Uecker and Tom Collins until 1979, when he signed a broadcasting deal with NBC and called the World Series and Summer Olympics in 1980.
Replaced by Bob Costas in 1982, Harmon signed with the Texas Rangers, and broadcast their games until his retirement in 1989.
Harmon, a longtime member of ASA, also worked as the radio voice of the New York Jets, calling the team's Super Bowl III championship team in 1968. He also served as the voice of the Kansas City Chiefs and baseball's Kansas City A's and Minnesota Twins.
The Man Behind The Voice
Harmon and his wife, Jenny, were married more than 50 years. They had four sons and one daughter, plus seven grandchildren.
Keith was one of those sons, and he experienced all the facets of his father's life, not just what Brewers, Braves and sports fans remember about how he could call a game.
"He was a unique guy," Keith explained on 620WTMJ's "Wisconsin's Morning News."
"He was one of the great, great human beings that walked this earth. As good of an announcer as he was, he was even better of a guy."
"What people remember about Merle was the nice man that he was," said Bob Uecker, echoing Keith's sentiments. "I never considered us as anything else but friends."
"You know you've got friends, but then you've got a pal, someone you could confide in. Merle was that pal."
Merle opened Merle Harmon's Fan Fair in 1977, and saw it grow to 140 stores nationwide before selling the business in 1996 and retiring in Arlington, Texas.
Keith Harmon stated that the place where he met his wife, Graceland University in Iowa, is setting up a memoriam in his honor.