Book on Mel Allen:
How About That!
by Kevin Kernan, New York Post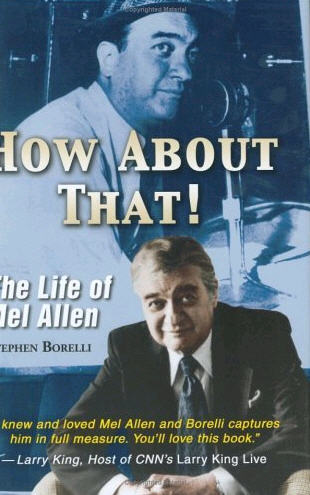 Mel Allen was much more than voice of the Yankees.
"Mel was bigger than the Yankees," former Yankee second baseman and broadcaster Jerry Coleman tells me from his home in San Diego. "To me, he was the best baseball broadcaster ever."
One day in the '50s, "the best broadcaster ever" got a phone call from a young man in the Midwest who was entertaining the idea of becoming a broadcaster and wanted some tips.
Mel patiently talked with him for nearly an hour. The young man eventually opted to follow another career path.
"Mel always had time for people; that's why he never had any time for himself," Larry Allen, Mel's brother, says from Montgomery, Ala., offering a hint of the same comforting voice that made Mel Allen so popular for decades with Yankee fans and as host of "This Week in Baseball" for 19 years, the "Baseball Tonight" of its time.
In 1964, after 25 years as a Yankee broadcaster, Allen was unceremoniously fired. Years later, he was re-hired and became a confidant of the man who once called him for those tips- George Steinbrenner.
Steinbrenner, through his spokesman Howard Rubenstein, says of Allen: "When he helped me out that way, I could never forget it."
Fans who grew up listening to Allen will never forget his signature home run call- "Going, going gone!" or his favorite phrase- "How about that!"
June 16 marked the 10th anniversary of Allen's death. At the age 0f 83, he died soon after watching the Yankees, under their first-year manager Joe Torre, beat the Indians. That day a young reliever came on in the sixth and recorded five of his eight via strikeouts- >b>Mariano Rivera.
"Mel was the soundtrack of Yankee success and he would have loved Torre and his teams," notes Stephen Borelli, author of How About That! The Life of Mel Allen.
Mel would have admired Torre in the way he admired Casey Stengel as a master psychologist.
"In many ways, Mel was New York baseball," Borelli adds. "He was the voice and later when television came about, the face of the Yankees dynasty. Fans hinged on his every word and associated him with their unprecedented winning as much as they associated the players with it. And to the Dodgers and Giants fans, Mel was just as much the enemy as Mickey Mantle.
Coleman won six World Series with the Yankees, all called by Allen. After retiring as a player, he moved into the front office for several years before finding his way to the broadcast booth, following the lead of his former double-play partner Phil Rizzuto.
"Mel took in a couple of dumb jocks like me and Phil," says Coleman, who 44 years later is a broadcasting icon in San Diego, "and treated us like we were human beings. He never tried to smother you or bring you down."
"I remember one time Phil and I were giving our opinion on what we thought was the greatest Yankee outfield of all time. We had Joe DiMaggio, Mantle and Roger Maris out there and Mel asked politely, 'What about Babe Ruth?'
"Mel was always a southern gentleman. I never heard him swear, I never heard him say a negative thing about anyone."
Allen graduated from the University of Alabama, where he was a schoolmate of an end named Bear Bryant. The school has had a scholarship in Mel's name since 1983.
With the Yankees, Mel broke in the likes of Curt Gowdy and Russ Hodges. When Boston owner Tom Yawkey, a friend of Allen's, asked for a recommendation , Mel was quick to tab Gowdy. He did the same for Hodges when Giants owner Horace Stoneham called.
Larry Allen, 85, says his brother had a simple philosophy, "Mel always said that he was lucky to have a seat at the ballpark," Larry explains. "He approached the game like it was a story, and he was going to tell the story of that game."
No one told it better.
For more information or to purchase Stephen Borelli's book, How About That! The Life of Mel Allen, visit our "Sportscasting Books" section.