ASA President Lou Schwartz Attends "Meet the Pilots" Event on board the USS Intrepid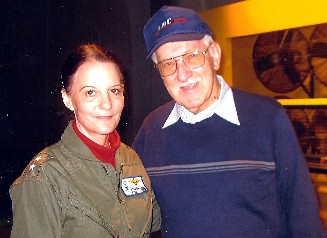 Lou Schwartz with Rear Admiral Wendi Carpenter, USN (Ret.)
March 25, 2012 - ASA President Lou Schwartz received a special invitation to attend the "Meet the Pilots" event and lunch on March 24, 2012, on board the USS Intrepid Sea, Air & Space Museum in New York City.
The event, part of Intrepid's "Salute to Women" month, kicked off with a special panel discussion with the pilots in the Lutnick Theater from 11am-12:30pm, followed by a private lunch.
The ASA is currently working in conjunction with the Pentagon's Warrior and Family Support Program on a job creation program for returning veterans. Mr. Schwartz met one-on-one with the pilots and explained the goals of the program. The officers offered their assistance whenever possible.
Pilots who took part in the panel discussion included:
Colonel Kimberly Corcoran, USAF - A graduate of the USAF Academy and now Vice Commander, United States Air Force Expeditionary Center, Joint Base McGuire-Dix-Lakehurst, N.J. Col. Corcoran has over 4,600 military flying hours.
Rear Admiral Wendi Carpenter, USN(Ret.) - She was the 31st woman to be designated a Naval Aviator and was the Navy's first woman aviator to attain the rank of Rear Admiral. Admiral Carpenter has accumulated over 3500 military flight hours.
First Officer Leslie Watkins, JetBlue airlines - The daughter of a career airline pilot, Leslie learned to fly in the civilian arena. She is now JetBlue's first female simulator Check Airman and has over 4,000 flight hours.
Bernice "Bee" Haydu - Bee is the senior representative of the Intrepid, having earned her wings during World War II. She served in the Women's Airforces Service Pilots (WASPs), owned her own flight school, and was recently inducted in the Women in Aviation International "Hall of Fame."
Following the luncheon, the pilots were available on the hangar deck in the exhibition areas to answer questions and share their flying experiences one-on-one with the many visitors of the Intrepid.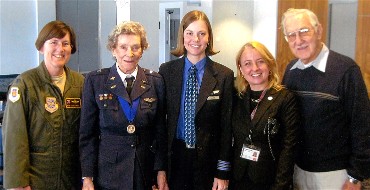 Col. Kimberly Corcoran - USAF, Bernice "Bee" Haydu, First Officer Leslie Watkins - JetBlue Airlines, Jeanne Houck, PhD - Director of Grants & Foundation Relations, Intrepid Sea Air & Space Museum, and ASA President Lou Schwartz