ASA Sportscaster Profile:
Jim McKay
The following is an interview of Jim McKay, legendary ABC sportscaster, conducted by ASA President Lou Schwartz. The interview took place on June 28, 2003, when McKay was honored by the Maryland Society for Sight as the 2003 "Person of Vision" at the Pimlico Race Course.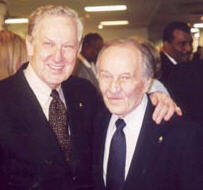 ASA President Lou Schwartz (l.) and ABC Sportscaster Jim McKay

Lou Schwartz: When was your first sportscasting assignment?
Jim McKay: I was the first voice of Baltimore television in 1947.
LS: How did you get the job?
JM: I was a reporter on the Baltimore Evening Sun and two assistant managing editors came over and said, 'We're putting a television station on the air, but we also found out that the Hearst paper is going to put one out too, so we want to go out first. We're going on in a week. So I said, 'What do you want me for?' And they said, 'Well, you can be an announcer, a producer, a director and a writer.' I said, 'Why me?' And they said, "Didn't you say you were president of the Dramatic Society at Loyola College?' I said, 'Yeah.' And they said, 'Well, that's good enough for us. We don't know much about this either and we're going to run the station.' And that's what it was like in those days. It was a great opportunity.
LS: Do you remember how much you got paid then?
JM: I remember what I got paid when I joined the Baltimore Evening Sun. I got $35.00 a week. I think on television it was $100.00 a week.
LS: You were paid high wages. You must have been treasured.
JM: I don't know if I was treasured. Looking back, I had no idea what a great opportunity it was. But my wife, Margaret, and I knew from the first time television came on, that this thing was going to be a blockbuster. It was going to be unbelievable. And, of course, a lot of my colleagues at the newspaper said, 'Who wants to watch all of that crap.' H.L. Mencken, the great Baltimore writer, said, 'I wouldn't give a dime to see an hour of this stuff.' He also said that the young man doing the commentary was not very good at the job. That was me! It was the first time he had ever seen television.
LS: Aside from the Olympics, what other events have you enjoyed or remembered?
JM: Of course the Munich tragedy was the biggest event in my career and the most terrible.
LS: Is it true that you weren't dressed when you went outside? You had your pajamas on and you put a robe on?
JM: No. I had my bathing suit on. I only realized that 16 hours later. We'd been on the air all that time. It just goes to show you how you can concentrate on one thing. It was only when we got back to our hotel room and I took off my clothes that I still had my bathing suit on.
LS: What other event can you recall that you flashback in your mind and say, 'That was really something'?
JM: I think Team USA, the hockey team in 1980 at Lake Placid. They defeated the Soviets, who had just defeated the NHL All-Stars 6-0 shortly before the Olympics. Here were these college kids beating the Soviets and going on to the Olympic Gold Medal. To me, that's the greatest upset of all time in any sport that I can think of.
LS:What sportscasters of today do you think are some of the finest?
JM: I think Bob Costas is terrific. He's so knowledgeable. He can talk about any subject, not just sports. Dick Enberg is still around and still being as good as he ever was. Curt Gowdy finally retired but he came back and did a game recently. That's who comes to my mind.