Masao Hazama, ASA International Hall of Fame Inductee- 1987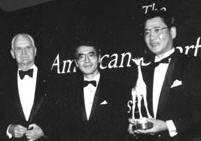 General William Westmoreland (l.) inducts Masao Hazama (r.) into the ASA International Hall of Fame, as his interpreter looks on

On December 3, 1987, at the Fourth Annual ASA Hall of Fame Awards Dinner, Masao Hazama became the first inductee into the ASA's International Hall of Fame. The following appeared in the journal given out at the event.
Masao Hazama, generally respected as the Dean of Sportscasting in Japan, joined the Japan Broadcasting Corporation (NHK) in 1954, immediately after graduation from Hosei University in Japan. He began work at the peak of the radio boom, but as television sports began to develop, he became one of Japan's first television sports broadcasters.
Hazama has covered a wide range of sports in his career, including baseball, soccer, skiing, golf, and track and field. Among the highlights of his career has been his coverage of international events, especially the Olympics- from the Tokyo Games in 1964 through Los Angeles in 1984 he has missed none.
In 1979, Hazama became the sports anchor on NHK's national nightly newscast "News Center 9," remaining there for three years enjoying high ratings. From there, he moved to his present position covering special events for NHK Sports.
Other credits include covering World Cup Soccer in 1978 and 1982, the U.S. Open Golf Tournament four times. His broadcast of the Jack Nicklaus/Isao Aoki battle at the 1981 Open is widely regarded as a high point in his career.
The Association proudly welcomes Masao Hazama as the first inductee into the American Sportscasters International Hall of Fame.