John Madden Signs with NBC for "Sunday Night Football" in 2006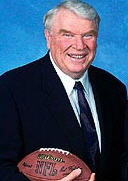 John Madden is moving to NBC when the network resumes broadcasting National Football League games in the 2006-07 season, the network announced.
Madden, who has already worked doing NFL broadcasts at the three other major networks, will join the "Sunday Night Football" broadcasts on NBC, the first time that Sunday night show will be on broadcast television.
Madden has been part of the team at ABC's "Monday Night Football" for the past three seasons and ABC confirmed that he will stay as part of the ABC team for the 2005-06 season, broadcasting the upcoming season's Super Bowl when ABC airs it.
But after this coming season "Monday Night Football" will move to ESPN, which like ABC is owned by media conglomerate Walt Disney Co. And neither ABC nor ESPN will be part of the rotation of networks that will get to broadcast Super Bowls during the six-year life of the NFL rights deals.
By moving to NBC Madden is set to broadcast his 11th Super Bowl on NBC in 2009.
"I have been doing this a long time and when I went to ABC to do 'Monday Night Football,' I thought I would finish my career there," said Madden in a statement released by NBC. "But when the NFL did this new television deal, I looked at 'NBC's Sunday Night Football' package, and I thought this really fits me well."
NBC is a unit of General Electric Co. The network has generally been conservative in recent years pursuing most high-priced sports rights deals. It lost the rights to the National Basketball Association, Major League Baseball and the NFL to other networks in a five-year period beginning in 1997.
But with NBC losing its traditional lead in overall ratings, it has decided to get back in the bidding for the NFL games, agreeing to a $3.6 billion, six-year deal with the NFL in April.
Madden had originally worked for CBS in its NFL coverage, and moved to Fox for the 1994 season when the then-upstart network won the NFL rights away from CBS. Fox allowed Madden to leave for ABC in 2002 with a year left on his Fox contract.
Besides his experience as a broadcaster and NFL coach, his name graces one of the most popular video games from Electronic Arts.
"John is much more than a football legend, he's an American icon," said a statement from Dick Ebersol, chairman of NBC Universal Sports. "He is the only sports television talent who resonates across all ages - kids grow up today playing his video game and watching him on TV, as their fathers grew up watching him on NFL sidelines every Sunday."