Full Circle Olympic Dream:
Lynn Petronella

by Cheryl Casati, Epoch Times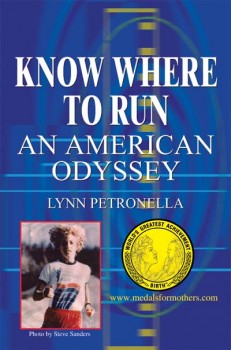 Cover of Lynn's book, Know Where to Run, photo by Steve Sanders

July 27, 2012 - SCOTTSDALE, Ariz.—Lynn Petronella is a ball of energy. Her pioneering efforts brought marathon running for women to the Olympics. But it wasn't a straightforward tale, and she never actually had a chance to participate in the Games.

Her story began with training to earn a berth in the 1980 Moscow Olympics, where she saw her chance to compete disappear, as did the rest of the United States team.

United States President Jimmy Carter was unable to persuade the International Olympic Committee to cancel or move the 1980 Summer Olympic games from the U.S.S.R., leading him to a boycott of the 1980 Olympics, which 65 other countries joined. The boycott was a global protest of the December 1979 Soviet invasion of Afghanistan.

Her shot to run in the Olympics for her country was dashed, yet she never gave up on her dream—it just took another form.

"I got stuck on the boon of running and here I was on the precipice of having this amazing running career," Petronella remembered. "They kept telling us it [the women's marathon] might be put in. I lived on the precipice of maybe."

Today's female Olympians now have a full set of running races, from 100 meters to the marathon. But in earlier times, women were only allowed to run up to 1,500 meters, the marathon being considered "too difficult" for women to compete in.

Petronella begged to differ, especially after running the Boston Marathon in 1978 in 2 hours, 56 minutes—a time that would have won her an Olympic Gold medal as a man in four Olympics of the past 100 years.

Her dream had been to become the first woman marathoner from the USA to bring home a gold Olympic medal. Her training was done primarily in Colorado's high altitude, which is said to bring a number of advantages. Notably, in high altitudes, the body compensates for the reduction of oxygen in the air by producing more red blood cells. A runner training at high altitudes for even a month can perform and train better because of the change in their blood.

Even though she hadn't been able to run in the Games, she had enough impressive marathon wins and running times to be hired by Pepsi Cola as a spokeswoman.

Olympic Dream Still Alive

Petronella kept on running, winning in record time. Being the first-ever amateur athlete hired by Pepsi, she was in charge of the largest running program in the world, the Diet Pepsi Run America Run program, which involved road races nationwide.

Petronella's new position with Pepsi opened more doors than she had anticipated. Her position in the Pepsi program allowed her to become one of the driving forces for bringing about exactly the changes she had wanted to see, supporting the 10K and Marathon to finally become Olympic sports for women in the 1984 Los Angeles Olympics.

Another door was opening as well, as Petronella became a part-time running coach and, in her words, "part-time cheerleader," for Joan Benoit, another woman with Olympic dreams. Interestingly, Benoit (now Samuelson) had taken up long-distance running to help recover from a broken leg suffered while skiing. Benoit made the team for the 1984 Los Angeles Olympics.

Grete Waitz, a Norwegian, was the favorite to win the 1984 Olympic Marathon—she had never lost a marathon she finished. But she had never run against Benoit.

Benoit set an early pace, drawing into the lead, a place she really did not want to be, but settled into anyway, according to olympicmarathon.com. She led the entire race, earning the Gold with a time of 2:24:52—almost 2 minutes faster than Waitz, who came in second. Petronella was elated: women now had their Olympic Marathon, and the first Gold went to Joan Benoit for the USA.

Two thousand years of Olympic History and the myths about what women were capable of were shattered in the 1984 Los Angeles Olympics.

"It was the greatest day of my life," Petronella shares in her book. "I saw through her [Benoit] what had been possible for me. It was vindication for eight years [of training and unfulfilled dreams]."

Dreams Come Full Circle

Petronella observed her mother when she was young and it opened her eyes to all the things it takes to be a good mother and wife: balance and endurance, with a huge capacity for love.

Her childhood led her to voluntarily begin helping with her younger siblings and to help mom around the house. As she grew into an adult and a runner, she came to a realization that women had such amazing endurance and courage—to give birth was the most difficult and amazing feat for a person.

To Petronella, no athlete can surpass the endurance it takes a woman to bring life into the world. She also noticed that the world does not often honor the achievement of bringing forth and nurturing the next generation.

She saw a huge imbalance in the social structure of the world, with people being paid enormous amounts of money in the form of sports contracts. Nudity was being rewarded daily and, again, huge sums of money were being paid to promote posing nude or nearly nude.

"I wanted men and women to see what REAL women did and take them seriously," Petronella shared. "Giving life was the greatest strength and gift we had. Why was it so undervalued, overlooked, ignored?"

An interesting thing that several female marathon runners have experienced is that after they have a child, when they return to running, their times have improved.

Petronella is continuously in awe of a woman's ability to birth new life, saying it was a "new spiritual awakening" to the realization of the "infinite capacity of all women to love."

"And of course she can run and win an Olympic marathon as well," she added. "After all, giving birth is by far a greater, more selfless act."

In light of these insights, Petronella crafted a gold medal for mothers. She hopes this medal will help "every woman (and man) to understand the magnitude of birth, and place the gift as the greatest award of mankind." This, coupled with her deep love for America, is something she expresses from a deep and genuine place inside her.

So far her medals have been awarded to Michelle Obama; Angelina Jolie; and Cindy McCain, Senator John McCain's wife; and medals were placed in the Oscar bags two years ago for all the female stars who attended.
Petronella also posthumously awarded a medal to one of her "heroines," Princess Diana of Wales, in observation of what would have been her 50th birthday.
To embody the full circle, a medal is currently on the way to the 2012 London Olympics to be presented to Queen Elizabeth II by Richard Mineards, the only person who is allowed to interview Her Royal Highness. The medal will be to honor her not only as a mother and grandmother, but also as the ruling matriarch of the United Kingdom. Ironically, the marathon distance was changed from 25 miles to 26.2 miles by the Monarchy in l908 when the Royals requested the race to finish outside Windsor Castle.
Lynn Petronella's entire focus is on making a positive difference for others. She sincerely sees an amazing strength in women as they tackle everyday life and often move beyond it, which fills her with wonder. It is the message on her medals that means the most, "The Olympics is a warm up.
The World's Greatest Achievement is … Birth."
For more information on Lynn Petronella see: itsawomansworld.tv