ASA President Lou Schwartz Visits with Marlins Announcers at Citi Field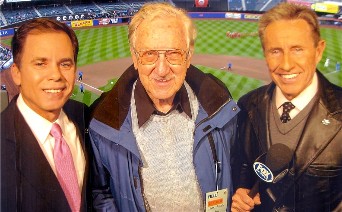 Rich Waltz, Lou Schwartz and Tommy Hutton

FOR IMMEDIATE RELEASE
April 27, 2013 - ASA President Lou Schwartz was in attendance at Citi Field as the New York Mets took on the Miami Marlins. David Wright hit a two-run homer and Jose Reyes managed just one hit against his former team as the Mets prevailed, 5-1.
Prior to the game, Schwartz visited the Marlins broadcast booth where he met with longtime ASA members Dave Van Horne and Tommy Hutton, as well as Van Horne's broadcast partner Glenn Geffner. Schwartz thanked Van Horne, the recipient of the 2011 Ford Frick Award, for his generous contribution to the ASA's job creation program for veterans.
Schwartz also sat down for an interview with Marlins TV announcer Rich Waltz, which will be posted to our website shortly. Waltz, in his eighth season with the Marlins, discussed his attempt to make it as a player in the big leagues and his subsequent journey through the broadcasting ranks.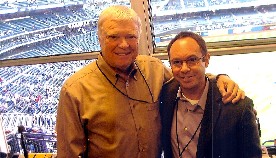 Dave Van Horne and Glenn Geffner