ASA President Lou Schwartz
Reflects on the Passing of
Boxing Legend Muhammad Ali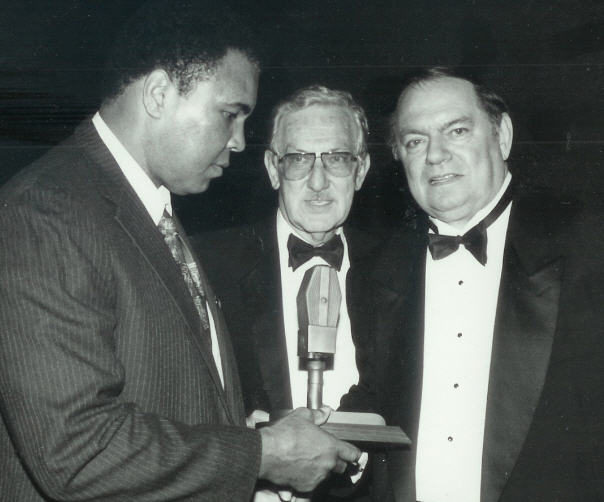 Shelby Whitfield (r.), former Executive Producer & Sports Director of ABC Radio, accepts Hall of Fame Award on behalf of Howard Cosell from boxing great Muhammad Ali & ASA President Lou Schwartz - 9th annual ASA Hall of Fame Dinner - 12/2/93

FOR IMMEDIATE RELEASE
June 4, 2016 - It is with a heavy heart that I reflect of the passing of boxing legend Muhammad Ali. Not only was he a giant in the sports world, but he was a civil rights activist, humanitarian and philanthropist who touched the lives of millions of people around the world, including mine.
I first met Muhammad back in 1991, when the American Sportscasters Association was going to bestow upon him the coveted Sports Legend Award. I had numerous conversations with Muhammad and he was very excited to attend the black-tie event to be held at the Marriott Marquis in New York City.
Even more excited was Don Dunphy, the longtime fight announcer known as the "Voice of Boxing" who was going to make the presentation to The Champ. Don had called over 2,000 fights in his career, including Ali's epic battle against Joe Frazier at Madison Square Garden in 1971 known as "The Fight of the Century" which resulted in Ali's first loss as a pro.
The event turned out to be a huge success, and a friendship was formed between Muhammad, myself and his daughter, Khaliah, who attended the dinner with him. Khaliah became very active in the association and participated in many of the ASA's endeavors, including its anti-drug program. At one event, she even brought her Dad's championship belt to show the school children and urge them to stay drug-free.
Khaliah is now an author and clothing designer and is happily married to a prominent lawyer and they have son named Jacob. Several years ago, I had the honor of attending Jacob's Bar Mitzvah. Muhammad was scheduled to attend but unfortunately he was unable to make the trip.
Ali would again attend the ASA Hall of Fame Dinner in 1993. This time to serve as a presenter of the Hall of Fame Award to his longtime friend Howard Cosell. During Ali's rise to fame, he had forged an unlikely friendship with the "Tell it Like it Is," announcer, who covered many of his bouts for ABC. Cosell's  ringside interviews with The Champ were often controversial and very entertaining, with the two going head to head exchanging verbal jabs. In one instance, Cosell accused the boxer of being "extremely truculent." "Whatever truculent means, if that's good, I'm that," Ali countered.
A few days before the dinner, however, Howard alerted me that he was very ill and wouldn't be able to make the event. Muhammad was very disappointed but he still attended the dinner and he and I presented the Hall of Fame award to Shelby Whitfeld, the executive producer of ABC Radio who accepted on Cosell's behalf.
In 2009, I ran into Muhammad at the Sports Emmy Awards. He was taking part in a special presentation of the Lifetime Achievement Award to NBC's Dick Ebersol. Ali is no stranger to the Olympics, having won a Gold medal at the 1960 Rome Games and famously lighting the Olympics Torch at the 1996 Games in Atlanta. He and his wife Lonnie were backstage and we spoke a while and the Champ gave me a big smile and a pat on the back.
Although he has been battling Parkinson's disease for over 30 years, which slowly stripped him of his speech and motor skills, Muhammad was still able to make a difference in so many people's lives just by his presence, and his legacy will on forever.
Rest in Peace, old friend. You are truly, "The Greatest."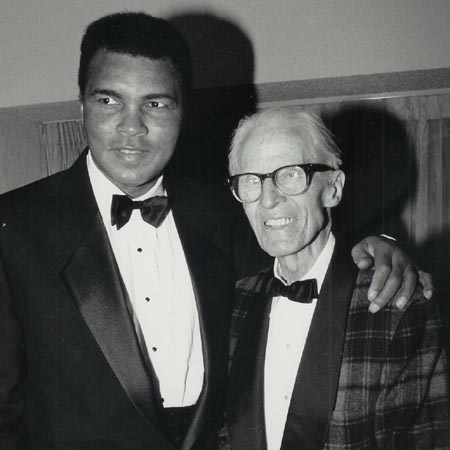 Sports Legend Awardee Muhammad Ali with Voice of Boxing Don Dunphy at the 7th annual ASA Hall of Fame Dinner - 12/5/91
*                         *                         *