5 Questions for Linda Cohn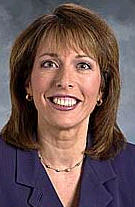 Recently, the NY Post's Andrew Marchand spoke with ESPN's Linda Cohn. Cohn, who grew up on Long Island playing hockey, will be calling WNBA action in 2006.
Q: What type of play-by-play are you going to do?
A: Starting next year, I'm going to be doing the WNBA, which I am really excited about. I'm going to do 16 to 18 games. That is for ESPN and ESPN 2. I'm going to be the host for ABC for the WNBA All-Star Game and Finals.
Q: How excited are you?
A: I'm very excited about it. My play-by-play experience basically consists of LPGA, which I did for two years for ESPN and ESPN 2 back in the mid- to late-90s. I enjoyed that a lot. But basketball, let's face it, is one of the four major sports. I grew up in New York loving New York Knicks basketball. I love the game. I attempted to play it before my hockey career. I was a better hockey player than a basketball player.
Q: What was the highest level you played hockey?
A: My claim to fame is that I made my men's high school hockey team (at Newfield High School in Selden/Centereach). I was a goalie. I tried out in my junior year. I opened up some eyes, but I didn't make it. My senior year I made the team. I shared goaltending duties with a guy, obviously. He was the starter. I was the No. 2, but I did get my share of starts and mop up duty. It was better than the senior prom.
The first time I actually played ice hockey with women was when I went to college at Oswego State. One of the criteria besides having a great communications, broadcasting department was having a women's ice-hockey team. I was the starting goalie all four years. I was ahead of my time. I was ahead of Manon Rheaume.
Q; Besides the WNBA, could you do baseball of hockey play-by-play?
A: I'm keeping an open mind. Who wouldn't want to do baseball? I would love to do the NHL. Obviously, when you have played a sport, it is a dream to call it. Baseball and hockey are goals.
Q: Why did you want to do less SportsCenter anchoring?
A: I've been there 13 years. For several years, it's been no secret that I've wanted to do more assignments. I wanted to have more balance. While I have a family- a husband and two kids- it's important to be (A) challenged and (B) grow professionally and mix that up with family life. To do that, you have to unlock the handcuffs for me on the SportsCenter set. The handcuffs were locked for many years and they had the key.