LeRoy Neiman, World Renowned Artist, Longtime Supporter of ASA and Personal Friend of ASA President Lou Schwartz, Dies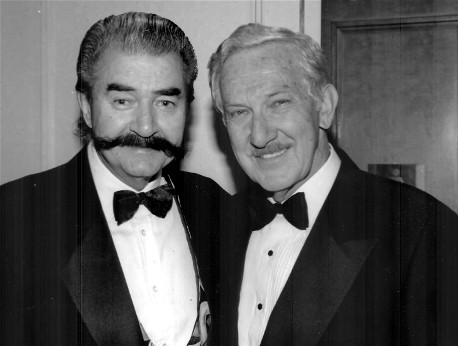 LeRoy Neiman and Lou Schwartz at the ASA's 8th annual Hall of Fame Dinner - 12/3/92
June 21, 2012 - LeRoy Neiman, who stood alone among contemporary artists in capturing the color, spectacle and excitement of the world of sports, died on June 20, 2012. He was 91.
Lou Schwartz, President of the ASA, on learning of the passing of LeRoy Neiman, stated: "LeRoy was not only a personal friend, but a friend of the ASA who would volunteer his services or his artwork, free of charge, to the ASA. He was a kind, generous and humble person who harbored no ill feelings toward anyone. I feel a deep personal loss in the passing of a one-of-a-kind human being."
Neiman, after studying at The School of Arts Institute of Chicago, went on to establish himself as one of history's premier sports artists. He created paintings during live major sporting events such as the Super Bowl, the World Series, the Masters Golf Tournament and several of Muhammad Ali's world championship fights. Neiman was the official artist for five Olympiads and a contributing artist at Playboy for several years.
Without fanfare, Neiman also established a worldwide reputation for philanthropy. Among his many endeavors, he gave $6 million to Columbia University to underwrite a print making studio that was named is his honor. Neiman's generosity towards the ASA was unparalleled, as he provided an original piece of artwork for every one of its 13 annual Hall of Fame dinners to be used on invitations, journals and newsletters and was in attendance for almost every event as well. In 1998, the ASA recognized his efforts and presented Neiman with the organization's annual Humanitarian Award.
"Not only I, but the country has lost a great American," concluded Schwartz.