ASA President Lou Schwartz Visits with Tommy Lasorda at Dodgertown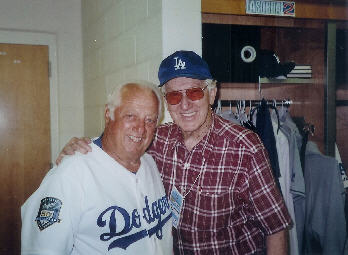 On March 17, 2008, the Los Angeles Dodgers played their last spring training game at Holman Stadium, in Vero Beach, Fla. ASA President Lou Schwartz was in attendance for that final game which the Dodgers lost to the Astros, 12-10.
If all goes as planned, the team will be moving to Arizona next spring where the city of Glendale is building them a state-of-the-art spring training facility closer to their Southern California fan base.
Tommy Lasorda, former Dodgers manager from 1976-1996, was filling in for current skipper Joe Torre while he was in China with a contingent of players for a pair of exhibition games against the San Diego Padres. During his years as manager, Lasorda guided the Dodgers to two World Series Championships. He currently serves as a Special Advisor for the team.
After the game, Schwartz was able to meet with Lasorda, a longtime friend and supporter of ASA who served as Master of Ceremonies for two ASA Hall of Fame Dinners. They reminisced about the history of Dodgertown, the team's spring training home for the last 60 years, and how Lasorda showed up there in 1949 as a young pitcher with hopes of making the team.
(The full Tommy Lasorda interview will be posted on this site shortly so please check back.)