Larry Zimmer Regains Voice, Hopes to Return to Booth

by Kyle Ringo
Courtesy of the Buff Zone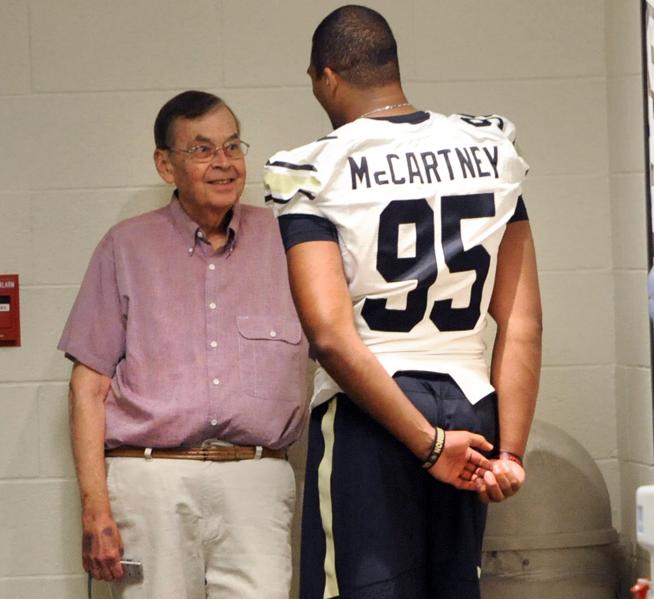 Larry Zimmer interviews Colorado football player Derek McCartney last August, two months before Zimmer suffered devastating injuries as the result of a fall. (Cliff Grassmick / Staff Photographer)
February 25, 2015 - Larry Zimmer has spent more than half his life using his classic voice to describe some of Colorado's iconic sports moments to his radio listeners.

In early October, Zimmer suffered a fall at his Lookout Mountain home. He was taken by ambulance to the hospital. Zimmer said paramedics put a tube down his throat to help him breathe, damaging his throat and vocal cords in the process, and he soon lost the ability to speak. He also aspirated vomit into his lungs and weeks later he nearly lost his life fighting pneumonia.

During his hospitalization, blood thinners caused internal bleeding that put pressure on nerves, eventually leading to an inability to move his right leg. He has had to learn to walk and swallow again and has had several injections in his vocal cords to regain the ability to speak after months communicating by writing on dry erase boards.

On Friday, Zimmer returned home to his wife, Brigitte, after more than four months battling those health problems in the hospital, a long-term care facility and a rehabilitation center.

"There was a six-week limbo there where I couldn't eat, I couldn't drink, I couldn't talk and I was basically in a mask providing 85 percent oxygen," Zimmer said Tuesday during a phone interview with the Daily Camera. "That is basically how I lived the first six weeks."

He said his wife of 41 years barely left his side the entire time.

"I don't know what I would do without her," he said. "She has just been tremendous. You talk about a wife. That's a wife."

He went more than two months without talking and three months without being able to swallow because of damage to his throat and vocal cords.

Now he has his sights set on returning to the KOA radio booth at 79 years young to resume his duties calling University of Colorado football, possibly as early as the March 15 spring game. If he can make it, it will be the first CU sporting event he has attended since the Oct. 4 football game against Oregon State.

"I hope so," Zimmer said. "There is nobody saying I can't."

Zimmer has been calling CU football games for 41 years and had missed only 13 games in all of those seasons combined, with six of them occurring last season. The first game he missed last fall ended a streak of 251 consecutive games he called over a 21-year span.
For Full Story visit:
http://www.buffzone.com/ci_27592024/larry-zimmer-regains-voice-hopes-return-radio-booth