ASA Remembers
Iconic Talk Show Host
Larry King
(1933-2021)

by Lou Schwartz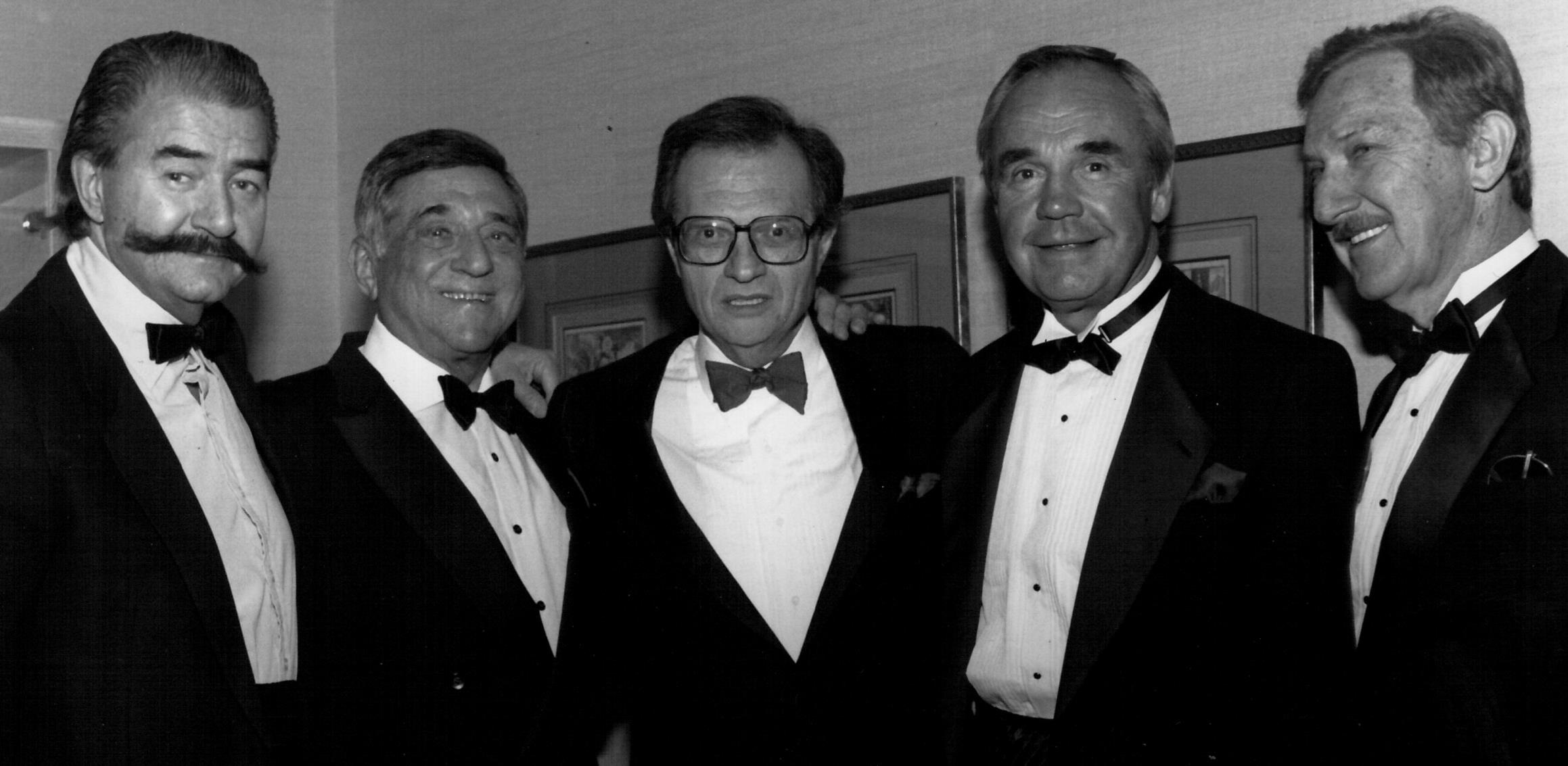 Larry King surrounded by his friends LeRoy Neiman, Robert Merrill, Dick Enberg and Lou Schwartz at the ASA Hall of Fame Dinner

FOR IMMEDIATE RELEASE
January 28, 2021 - I was saddened to learn that my longtime friend, fellow Brooklynite and legendary talk show host Larry King passed away last Saturday after battling numerous health problems and a bout with the COVID-19 virus.

During his illustrious career which began in 1957, King conducted  over 50,000 interviews, including every President from Richard Nixon to Barack Obama. Of all his accolades, Larry will best be remembered for his 25 years as host of CNN's "Larry King Live," television's highest rated talk show at the time. Larry's guests included a "Who's Who" of politicians, entertainers, world leaders, sports figures and everyone in between.
It is interesting to note that prior to becoming a national talk show host, King was a successful sportscaster. He handled sports commentary of Miami Dolphins football on WIOD Radio and anchored TBS' exclusive coverage of the Goodwill Games.
As a result, King was given the Graham McNamee Award at the seventh annual ASA Hall of Fame Dinner. The award is presented to a former sportscaster who achieves excellence in a different field. Other recipients have included President Ronald Reagan, Bryant Gumbel, Bill White and Walter Cronkite.

Larry also served as the Master of Ceremonies of several Hall of Fame Dinners where he loved to mingle with some of the athletes that attended including Muhammad Ali, Arthur Ashe and Joe DiMaggio. He especially enjoyed the company of his broadcasting colleagues and friends such as Vin Scully, Curt Gowdy, Don Dunphy, Dick Enberg and Jon Miller.

Larry was a true giant in the field of broadcasting with a personality and interview style that few have been able to duplicate. I thoroughly enjoyed the time we spent together and was fortunate to call him my friend.

*                       *                                    *